One of the other students gave us a picture of one of her flowers, an amaryllis, and our teacher turned it into a class lesson.
Source photo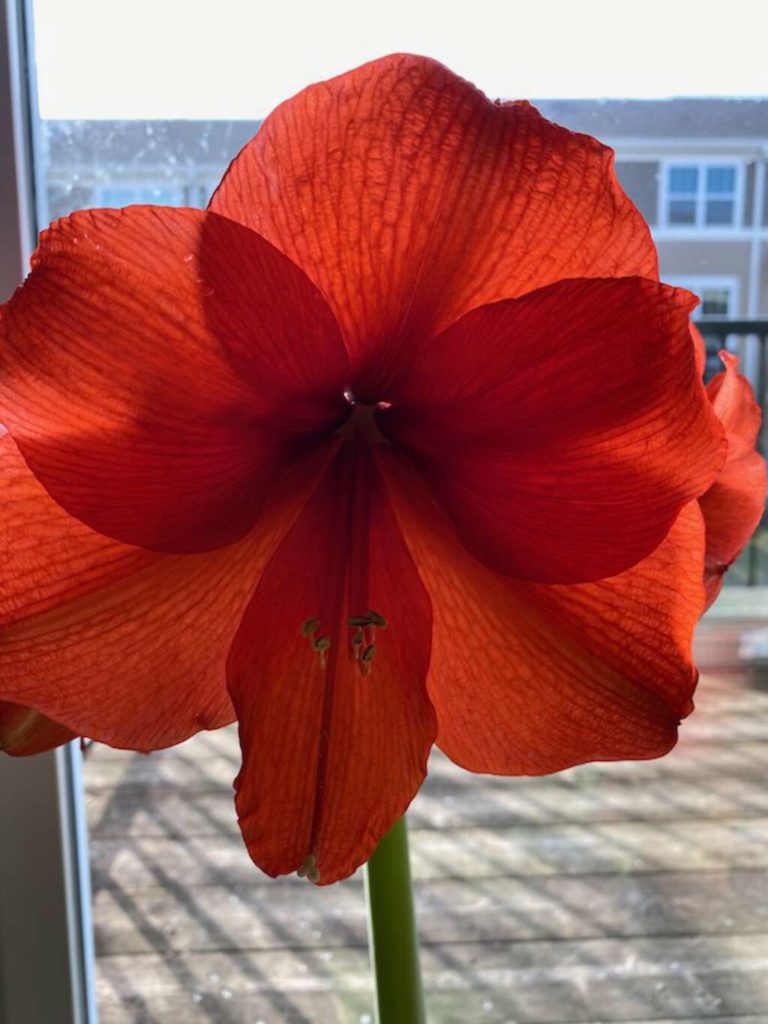 Instructions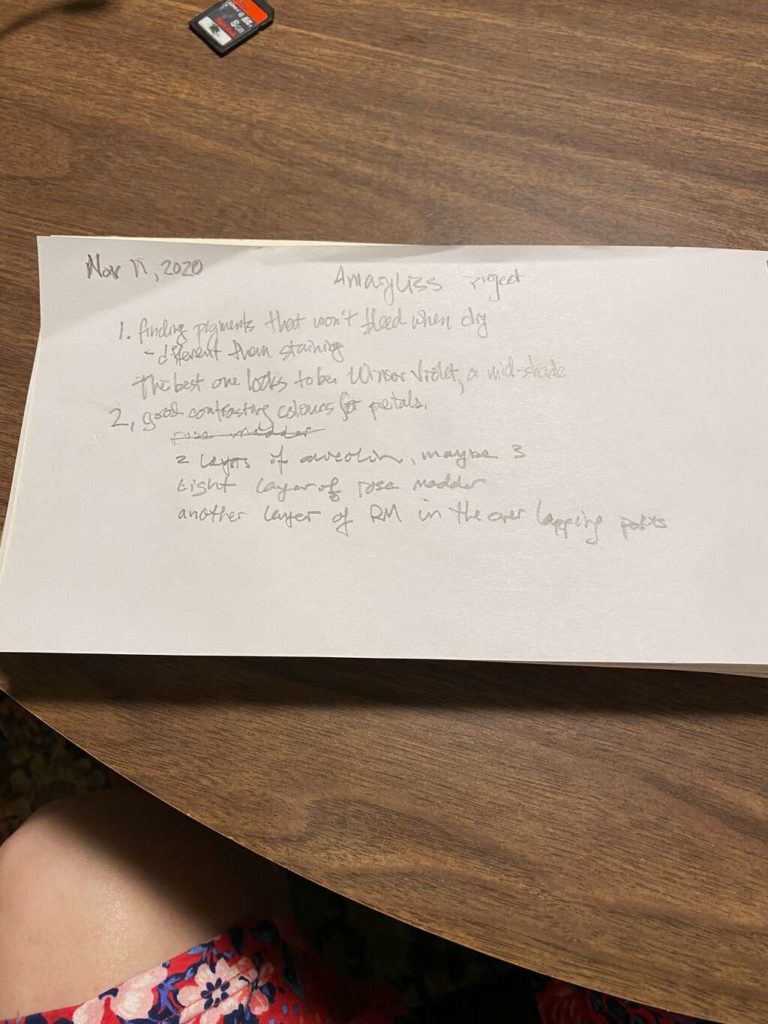 Dry fasteness testing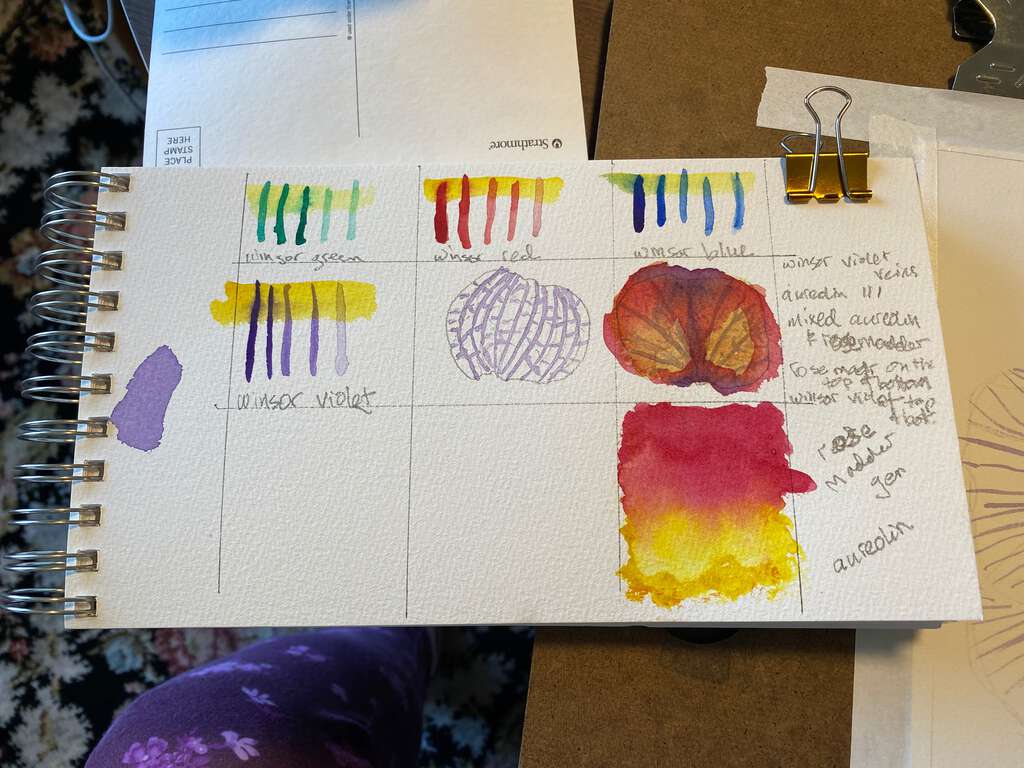 The instructions for this were to find a colour that would be both permanent and would not smear when painted over. I started with the basic set of Winsor colors: yellow, red, green, and violet (I didn't try blue, though). What I discovered was that if there was a lot of pigment, even if completely dry to the touch, doing a wash of light aureolin (cobalt yellow) over them made them run, but that a medium light shade was just fine and dry-fast when the wash was applied. Since this was the effect wanted, and also the veins were pale to begin with, that worked out really well. I decided to go with the Winsor Violet, applying a light shade. This is shown in the next image.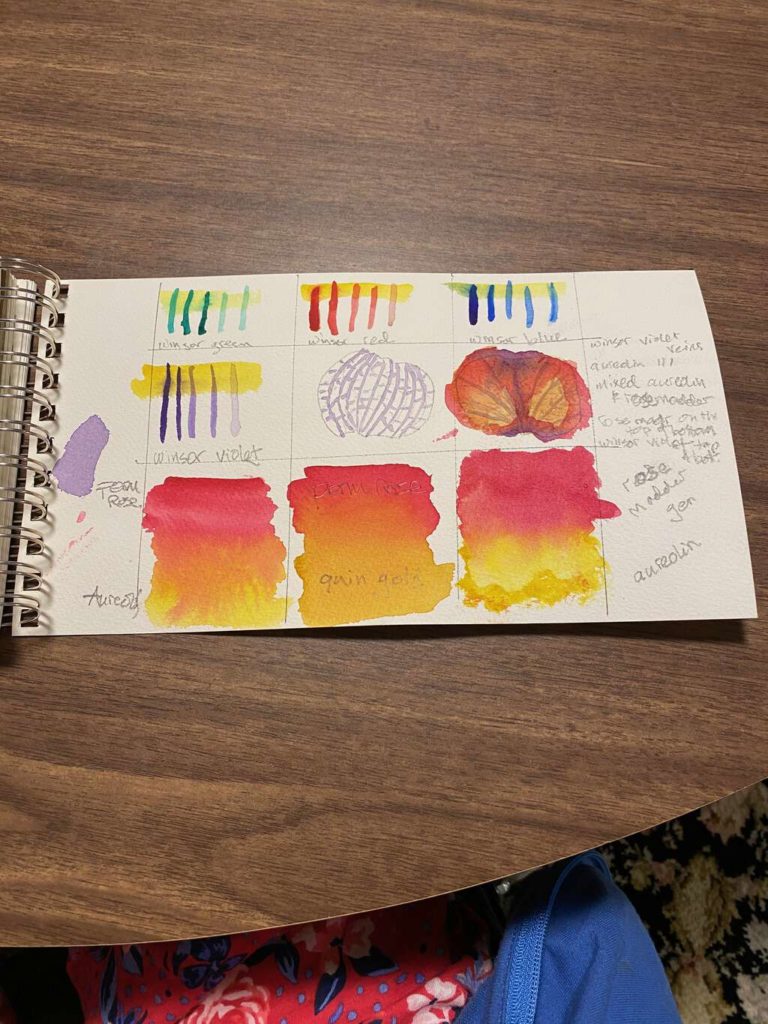 I also did a couple of practice sketches of one petal, with just the veins, and another with the veins and the colours I wanted for the piece: Aureolin and Rose Madder Genuine.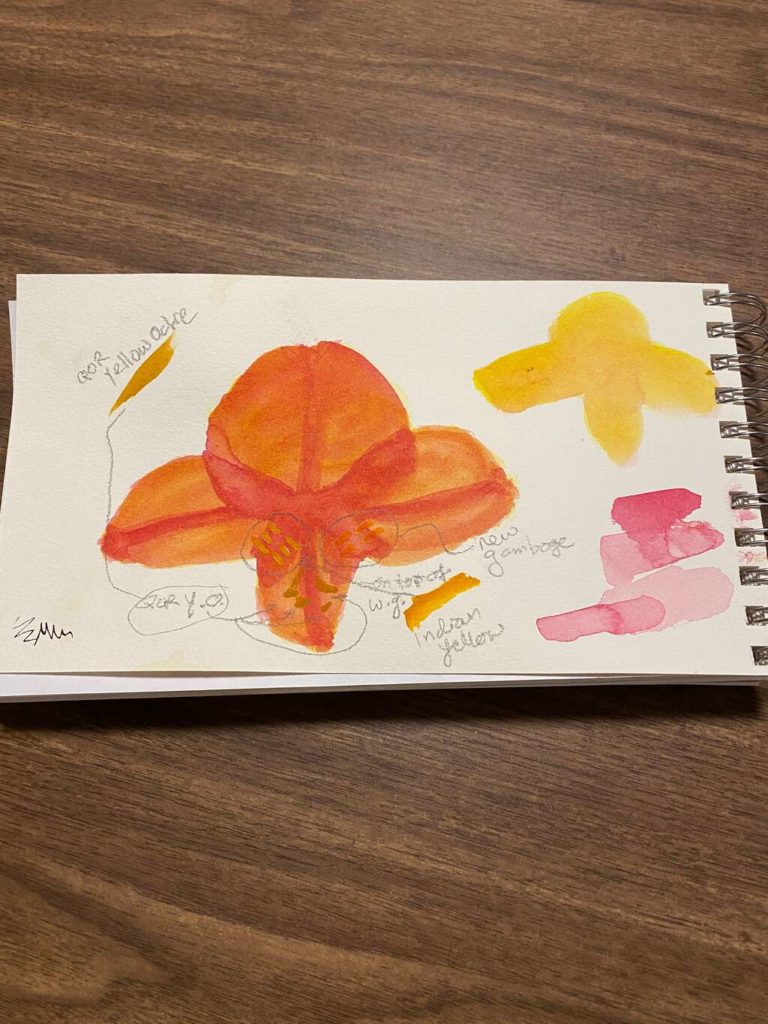 Paint in veins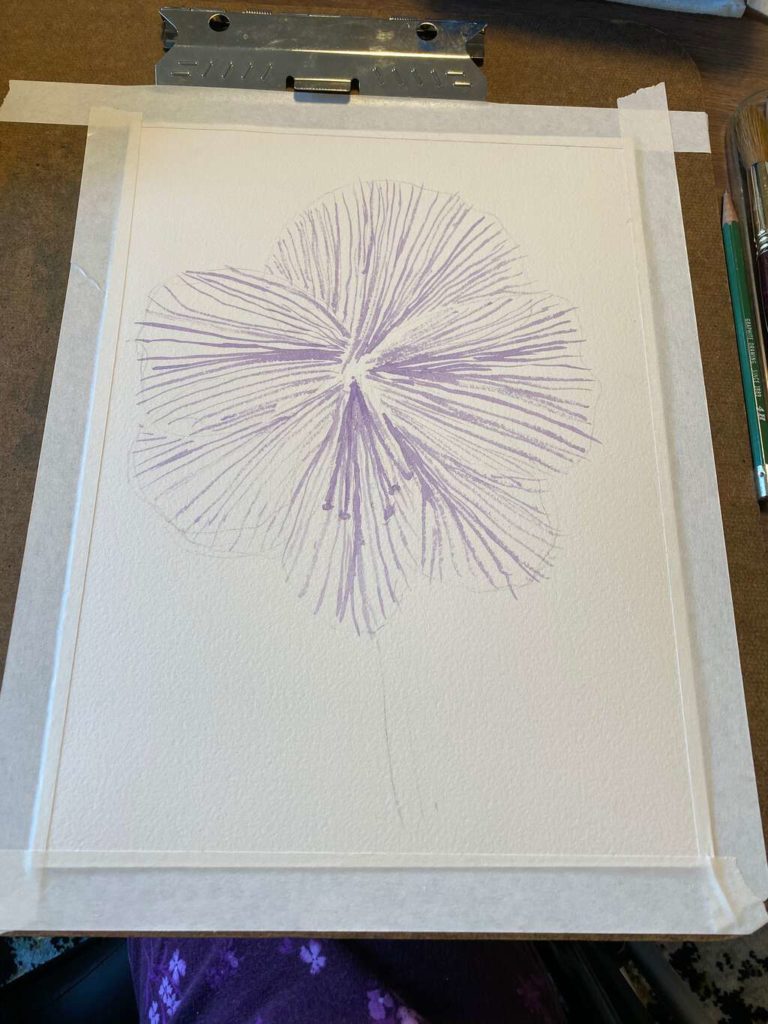 Layer practice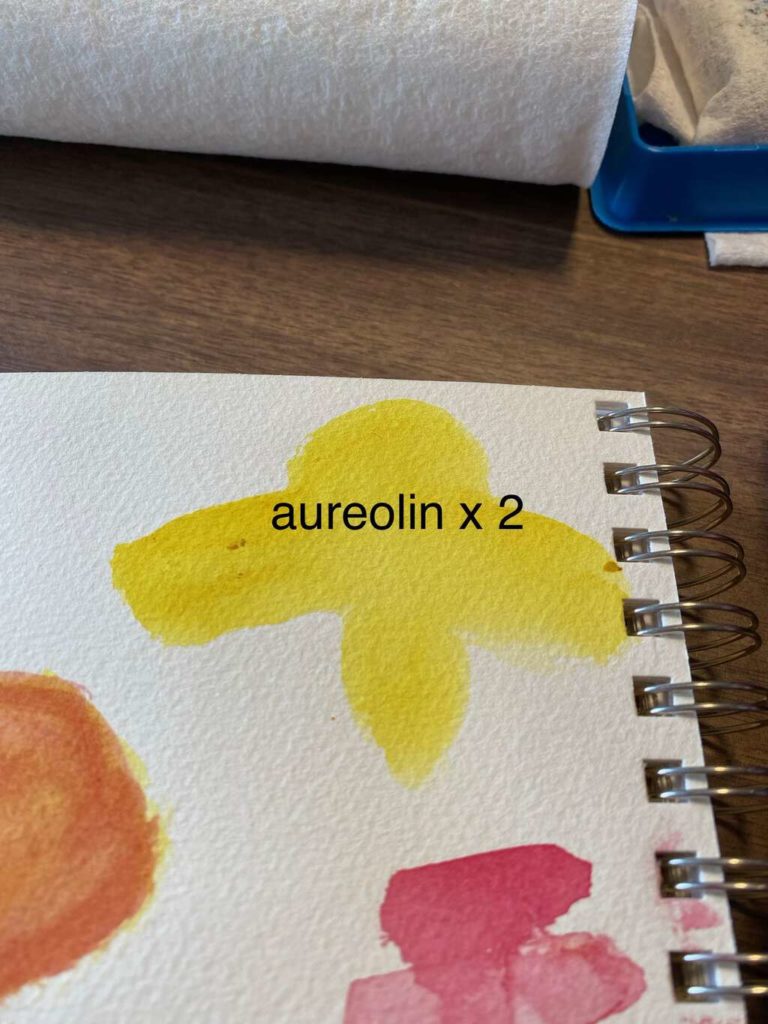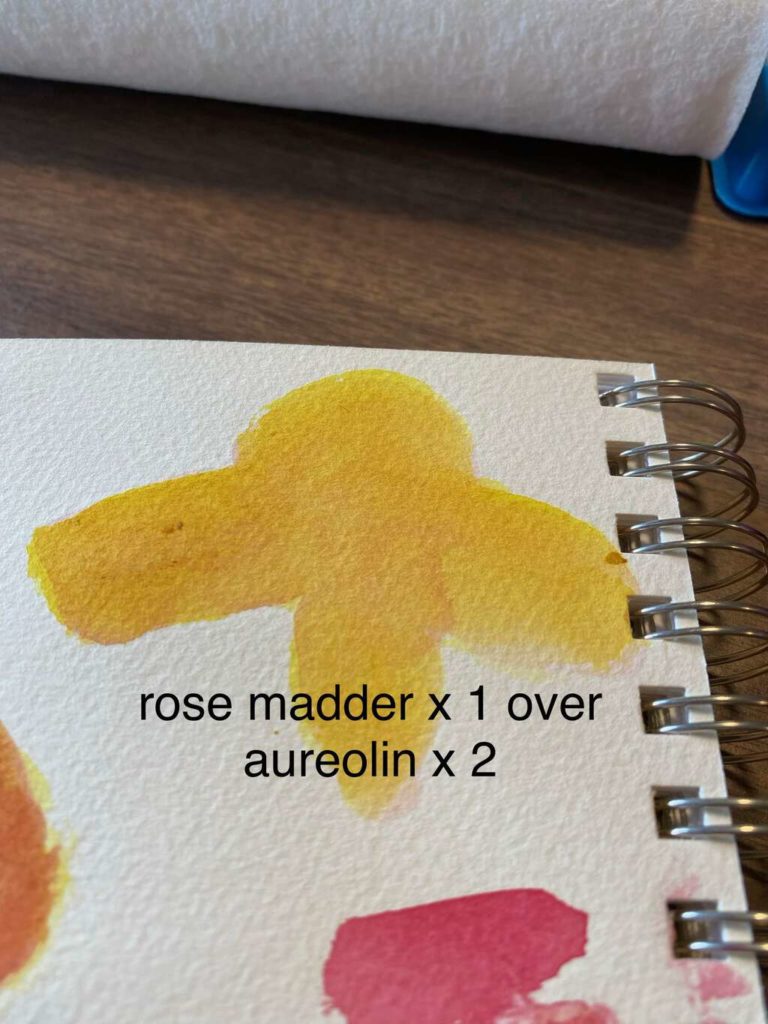 I knew this project was going to retain it's transparency and vibrancy only if it was built up in layers. I laid down 2 layers of diluted aureolin, letting it dry fully between applications. Then I put 2 layers of diliuted rose madder on, letting it dry between layers.
The technique is known as "glazing", which sorta makes sense to me in the sense of the thin coating over what's there already, and not blocking anything bouncing through the layers of pigment.
2 and 2 resulted in something more orange than I wanted, but was a great start.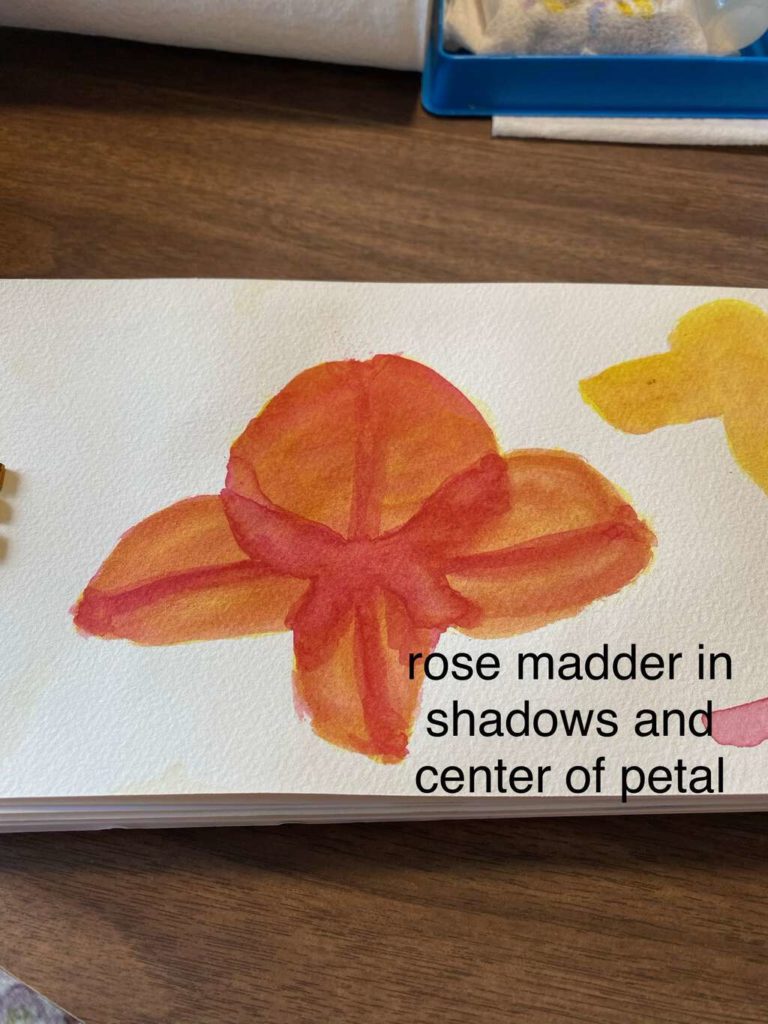 Another glaze of rose madder in the places where the petals overlap, and some of the central veins of the petals.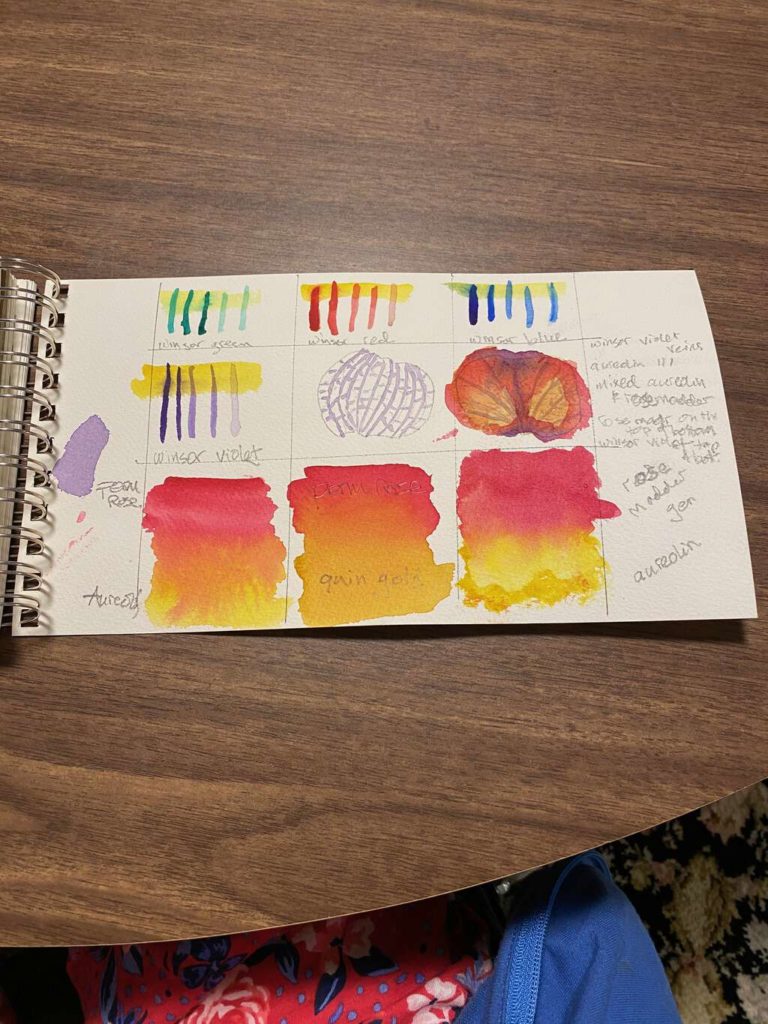 Initial glazea on flower painting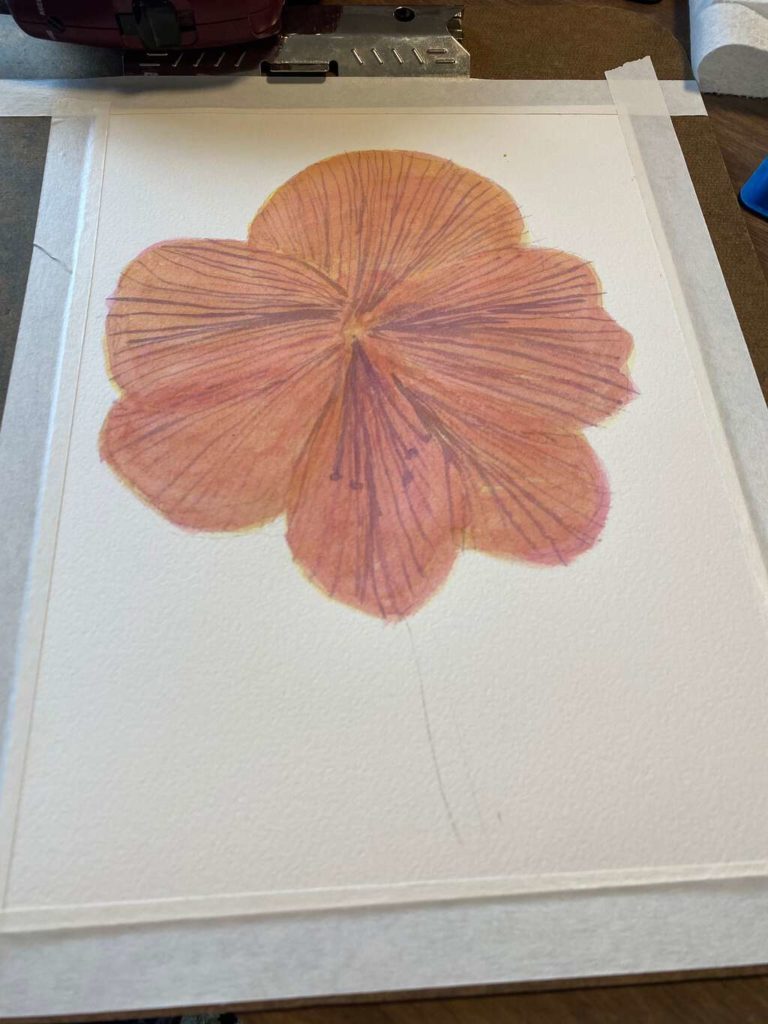 More layers
Add in blue to create purple shadows petal formations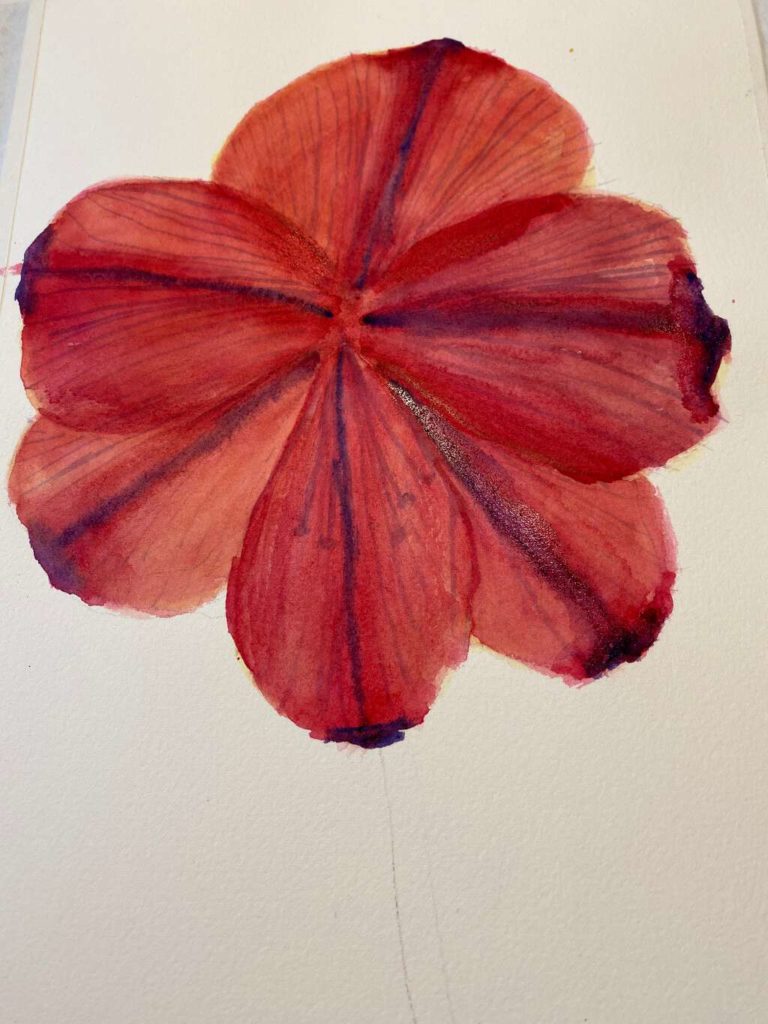 The image need some darkness in the overlapping petals, and along the central veins of the petals. Using french ultramarine in light glazing layers, I built up the purple / violet shading.
Testing colours for the stamens
Yellow Ochre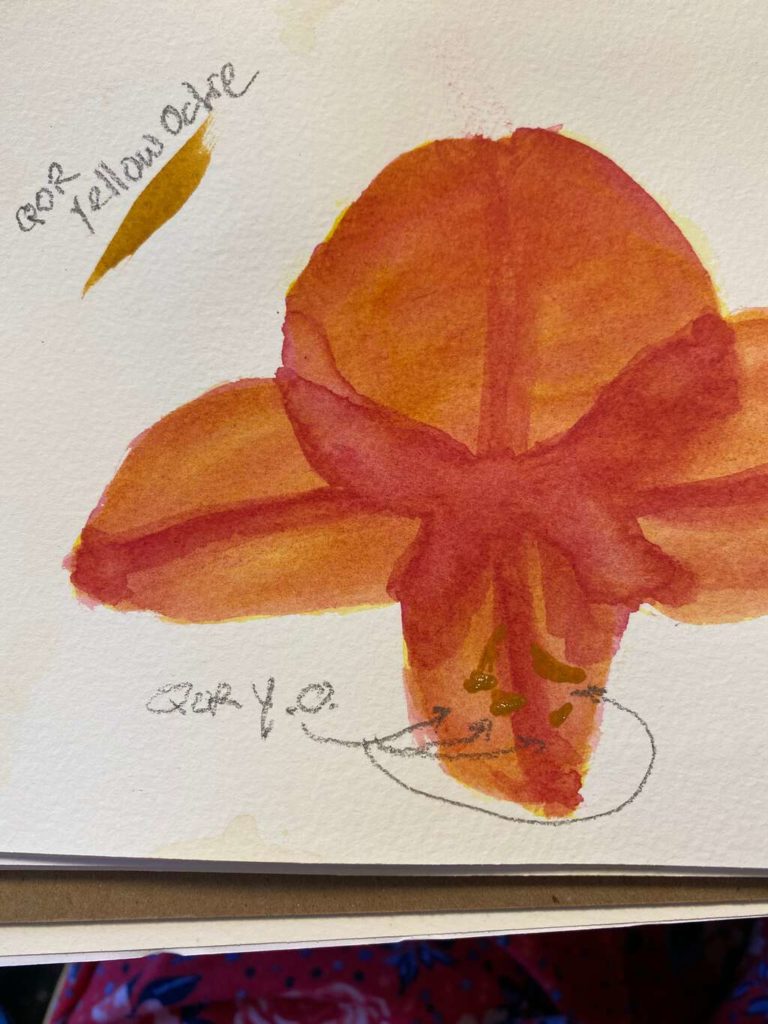 This really did not work well. If I had masked out the stamens, it would have been fine.
New Gamboage, Aureolin over White Gouache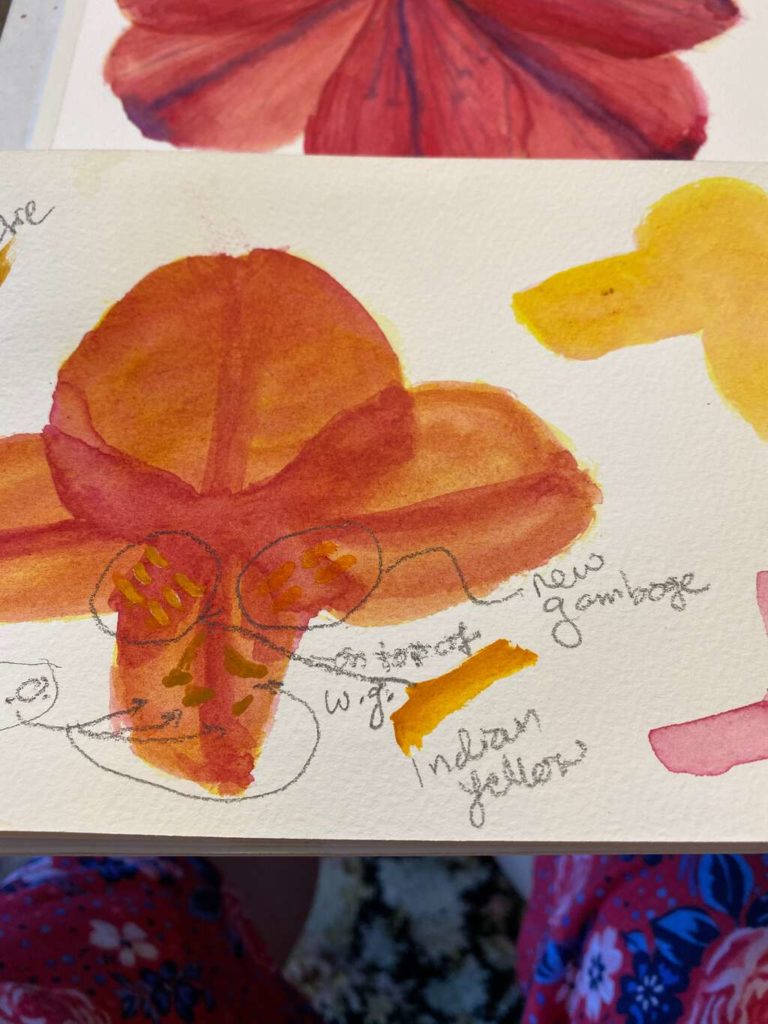 Thinking since New Gamboge is opaque, it might show up well, but it, too, did not work.
Finally, I put some White Gouache over the test flower; when that dried I painted undiluted aureolin over that. This worked the best out what I tried.
It would have been better if I'd masked first, though.
Stamens on flower
Final painting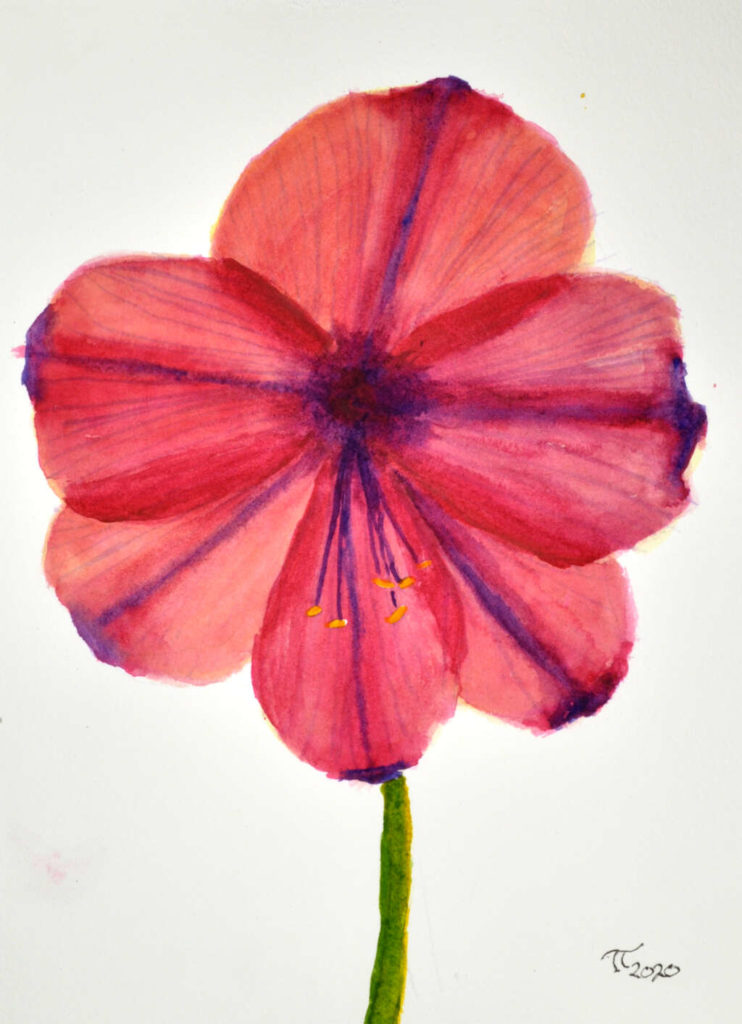 I am really happy how this painting turned out. It is too wide for a mat, sadly, so I don't think I'll end up hanging it.
Materials
Paper
Arches 140 pound cold press, 9×12
Brushes
Dreamcatcher #10 round
Dreamcatcher #4 round
Kolansky #2 round
Paints
Winsor Violet (veins)
Aureolin (Cobalt Yellow)
Rose Madder Genuine
Permanent Rose
French Ultramarine
Sap Green
Prints available