This painting was begun near the beginning of September 2019, and took quite a while to complete because of missed classes and so on. It's a relief to finally get it done. I'm rather pleased by how it turned out.
Source image, thumbnail sketches, preparation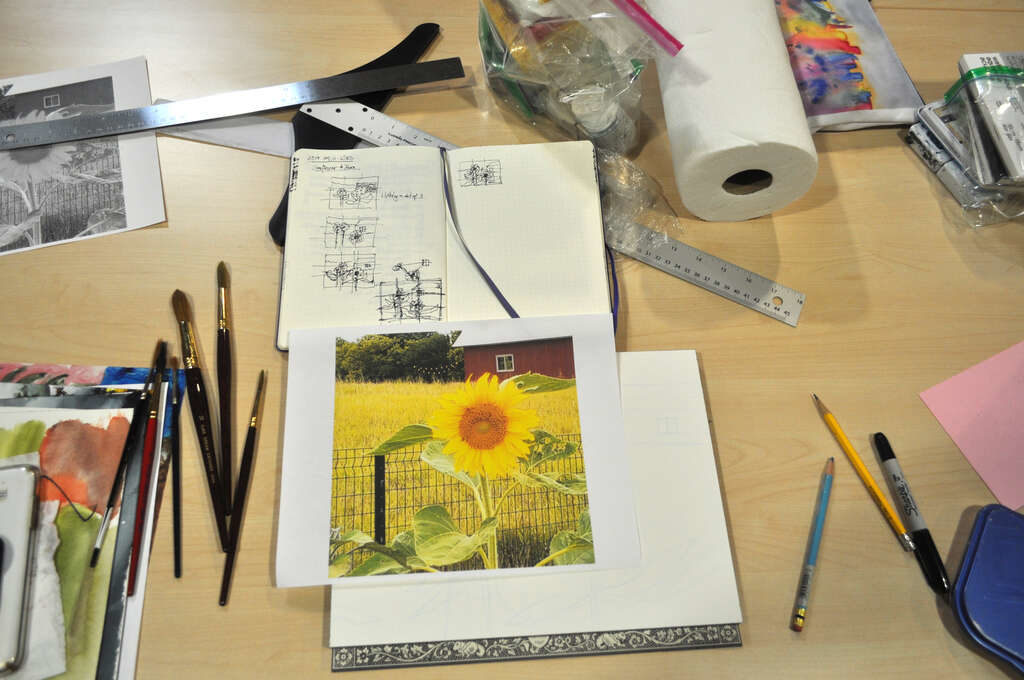 This was my work area after working on some thumbnail sketches to develop a composition, the source image from our teacher, and just the general stuff for starting to work.
Note book work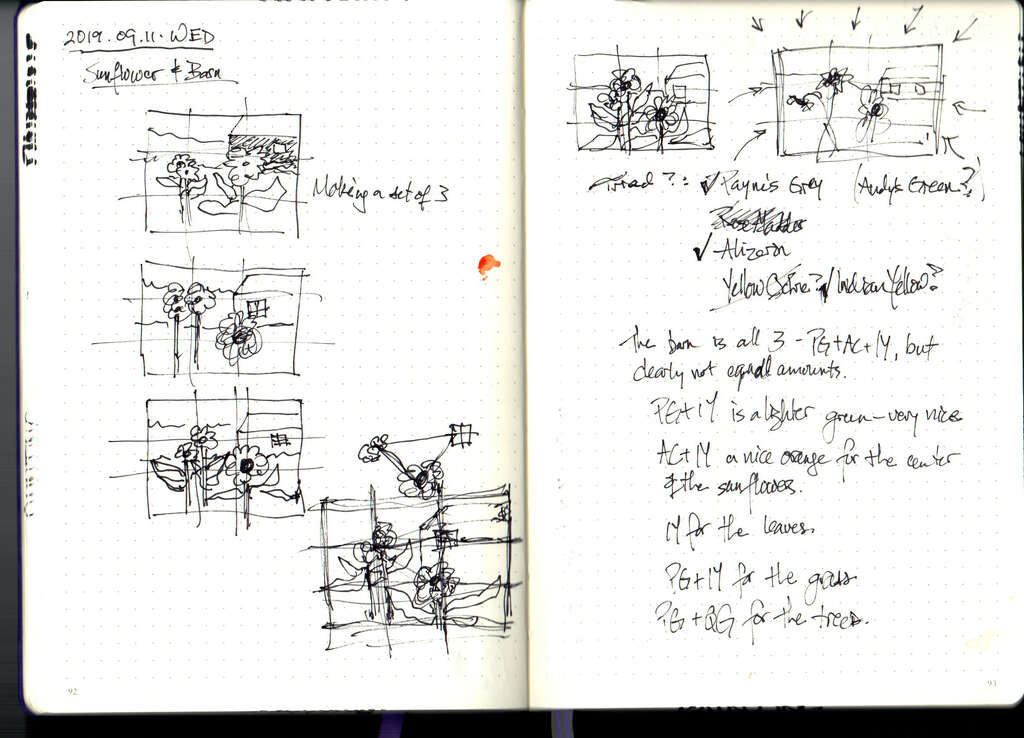 The original composition was not to my liking. I decided to go for 3 large blossoms instead of just the one, and get rid of the fence altogether. The thumbnail in the top right (with all the pointy thingies) is the comp I went with.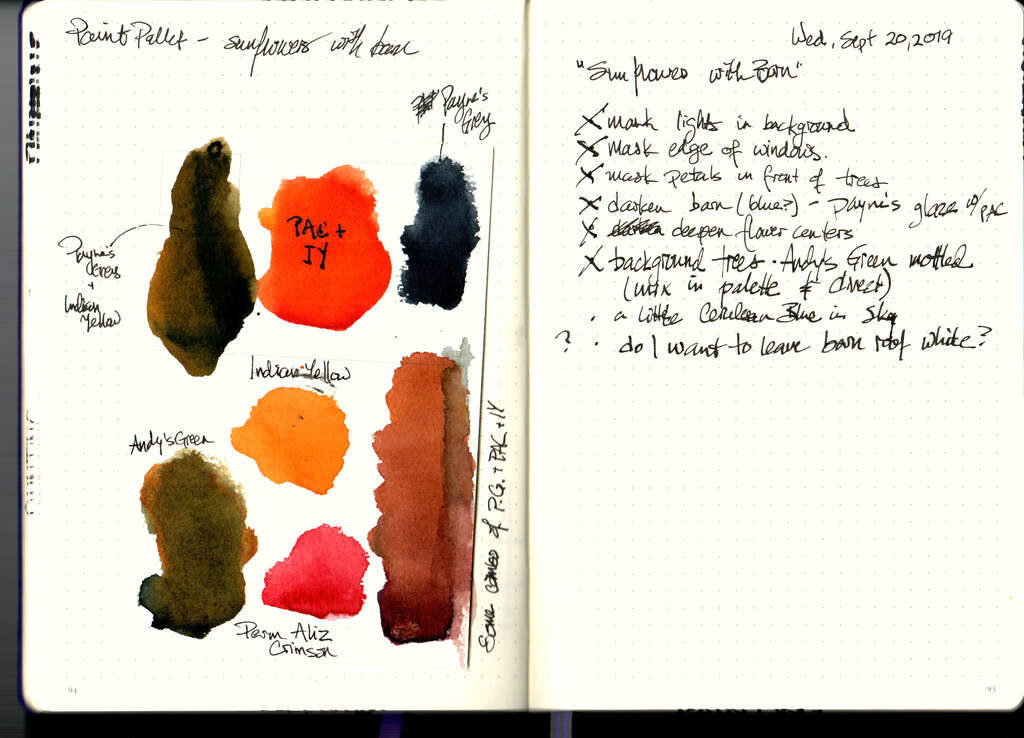 Palette choices:
Indian Yellow (IY)
Permanent Alizarin Crimson (PAC)
Payne's Grey (PG)
Added Quin Gold (QG) to make "Andy's Green" (after local phenom Andy Evansen )
The scanner doesn't do as good a job of capturing colours as my camera…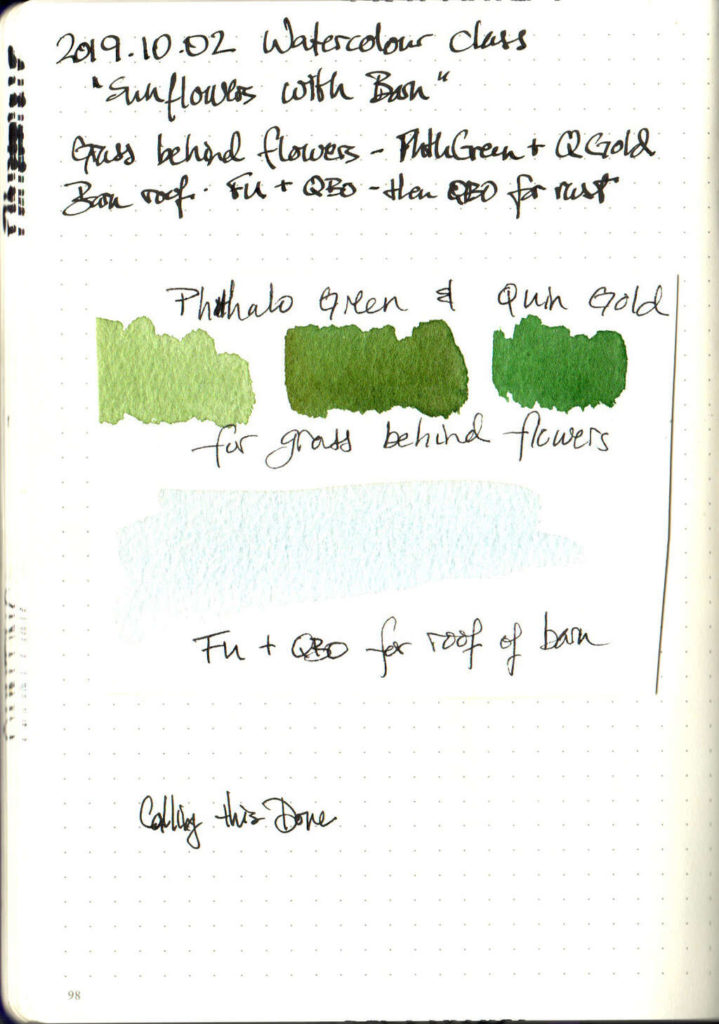 As I had done the flowers, leaves, barn and woods, I was left with figuring out the right colour to make the grass that would also make the flowers pop off the page. The mix of Phthalo Green and Quin Gold seemed to really do the trick.
I also decided I didn't want the roof on the barn to remain white, as it appears in the source photo. A very pale mix of French Ultramarine (FU) and Quin Burnt Orange (QBO) gives a nice metallic look,
Sunflowers and Leaves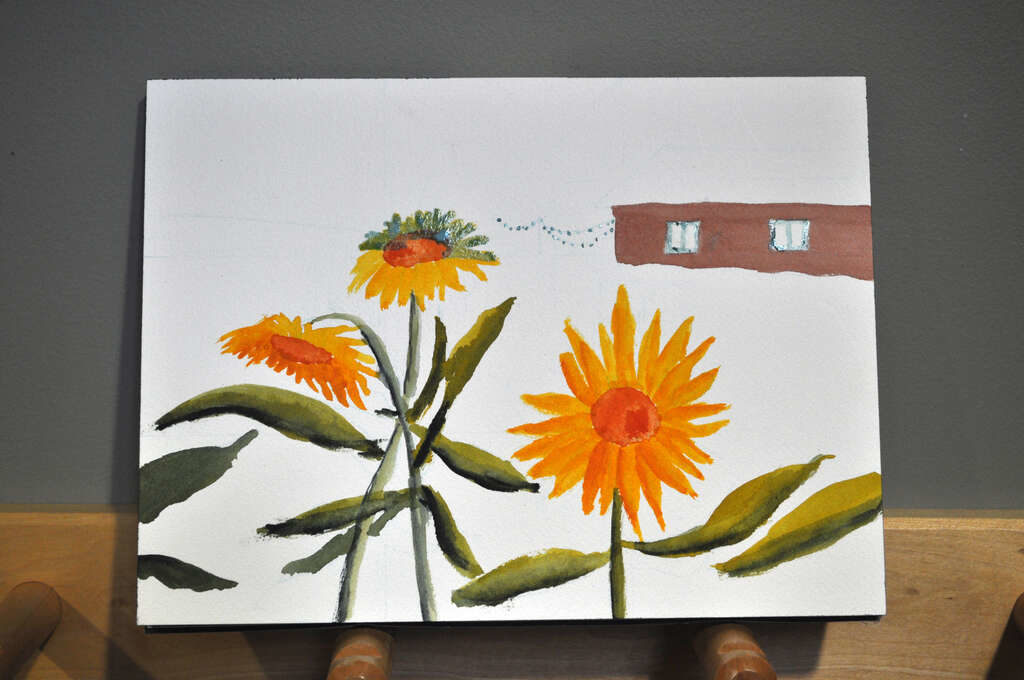 The blossoms are a combination of Indian Yellow and Permanent Alizarin Crimson. The leaves are combinations of Indian Yellow and Payne's Grey. The barn is all 3 mixed into a nice barn-like colour.
Woods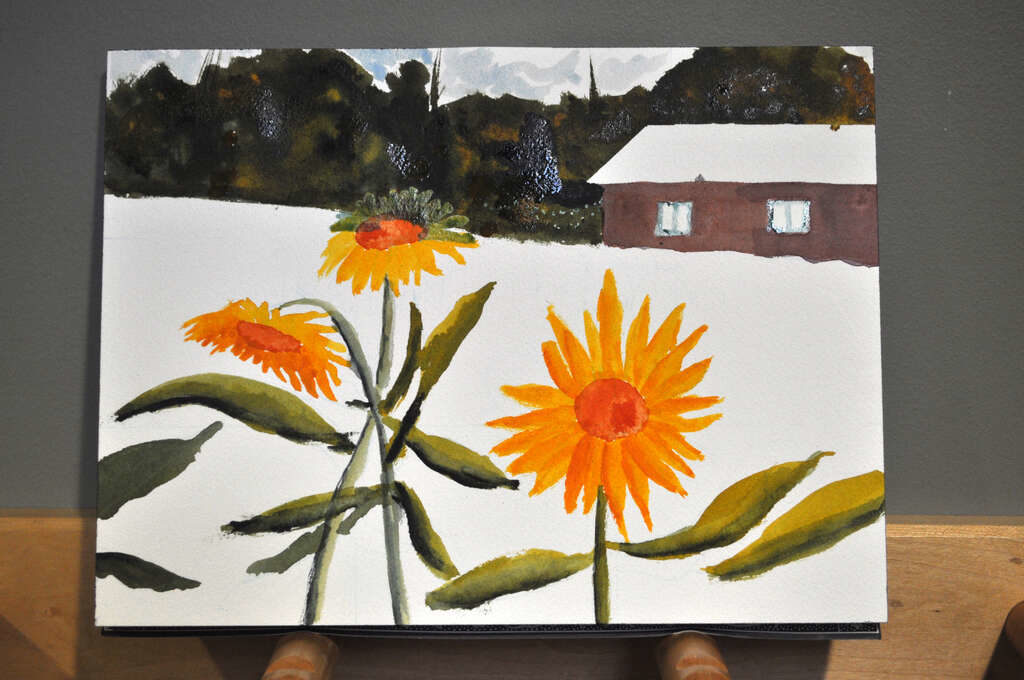 The woods are primarily Andy's green (PG + QG), mixed in palette and on the paper in varying strengths to give them depth and realism.
Mask removed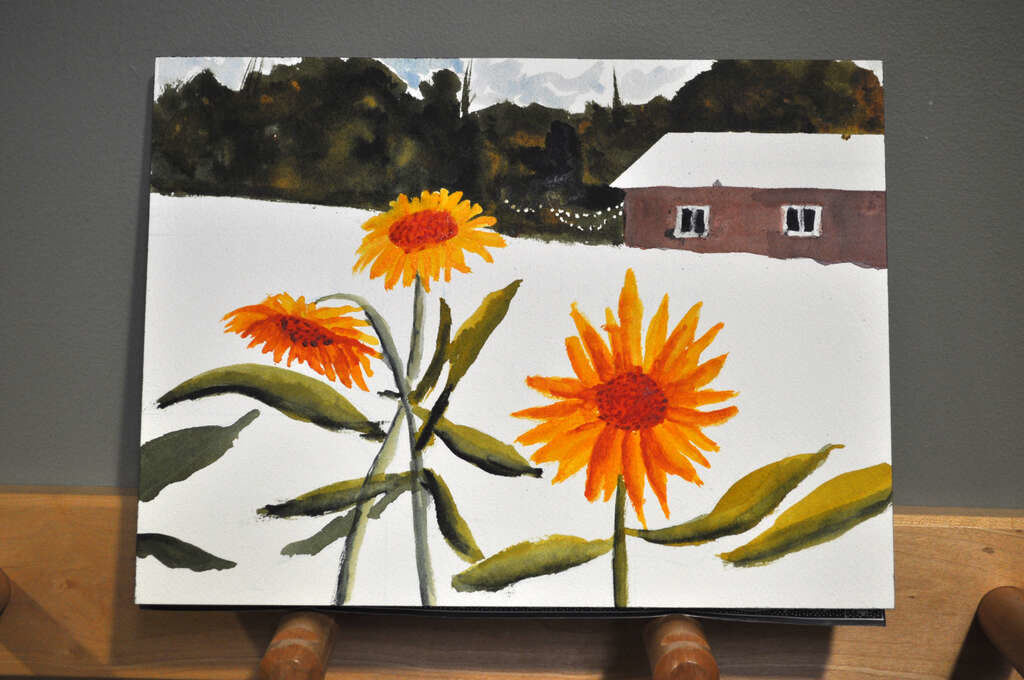 The masking fluid protecting the light and blossom areas from overpainting removed.
Lawn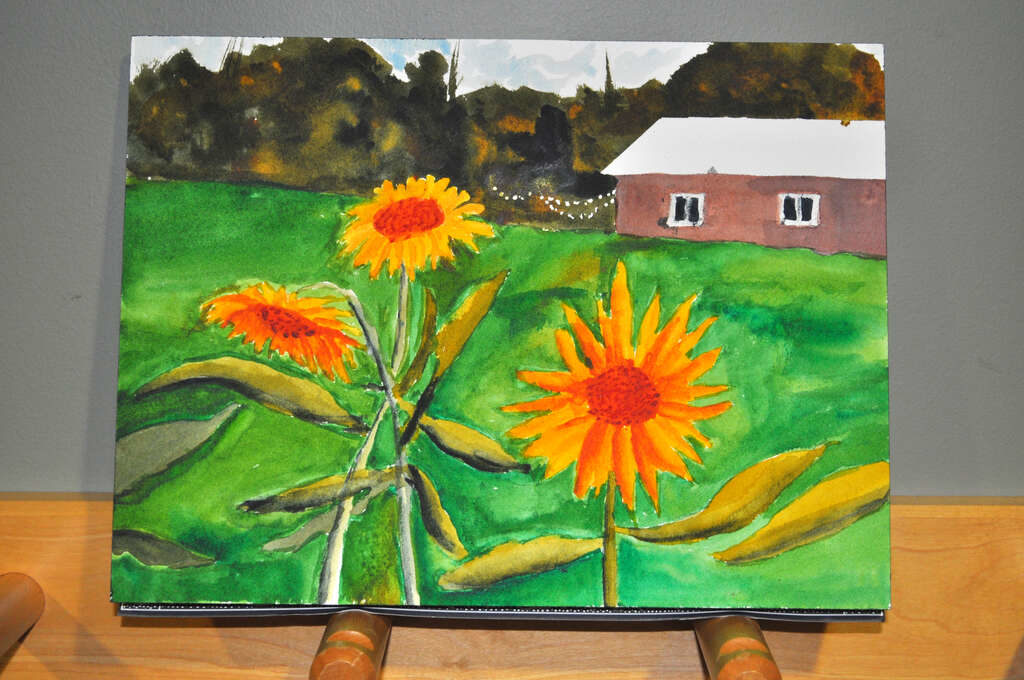 The lawn is that mix of Phthalo Green and Quin Gold, mixed in palette and directly on paper. This was harder as it was a lot of fiddly work to get it in next to the petals of the sunflowers without painting over them. Mostly ok here.
Roof and sky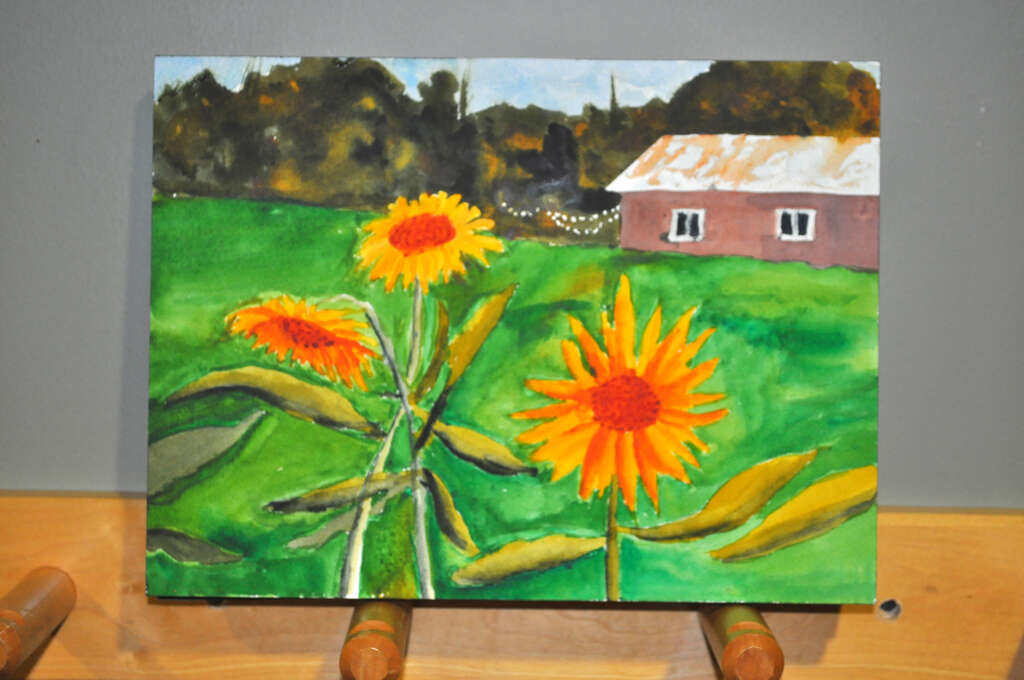 The barn roof got a very pale application of the French Ultramarine (FU) and Quin Burnt Orange (QBO), and then a pale dry brushing of just QBO to age it a bit.
Detail of main sunflower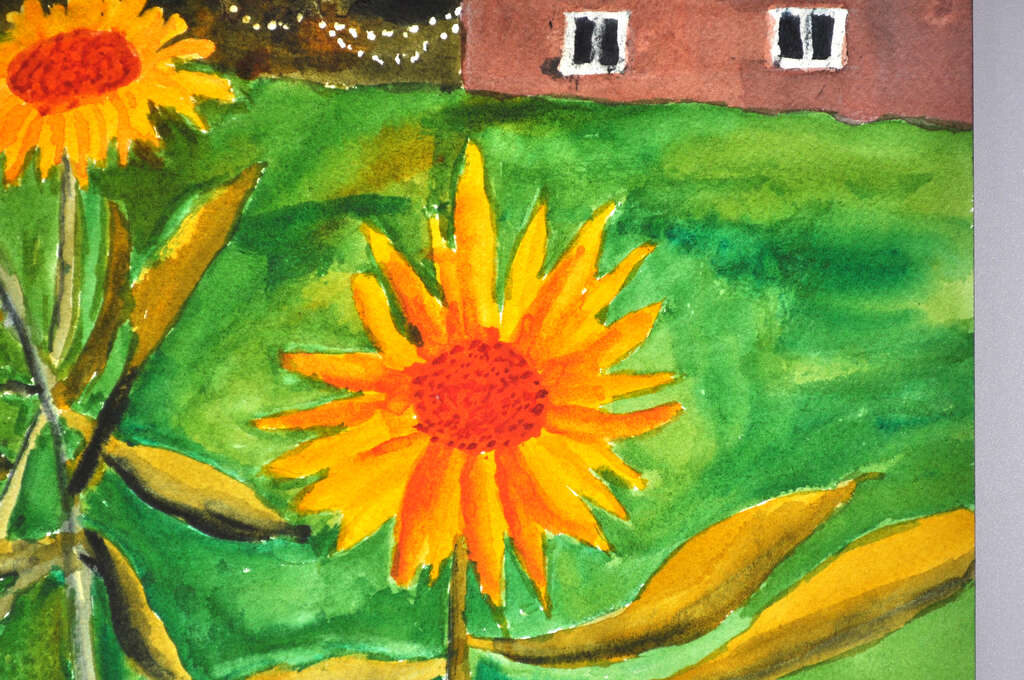 Completed painting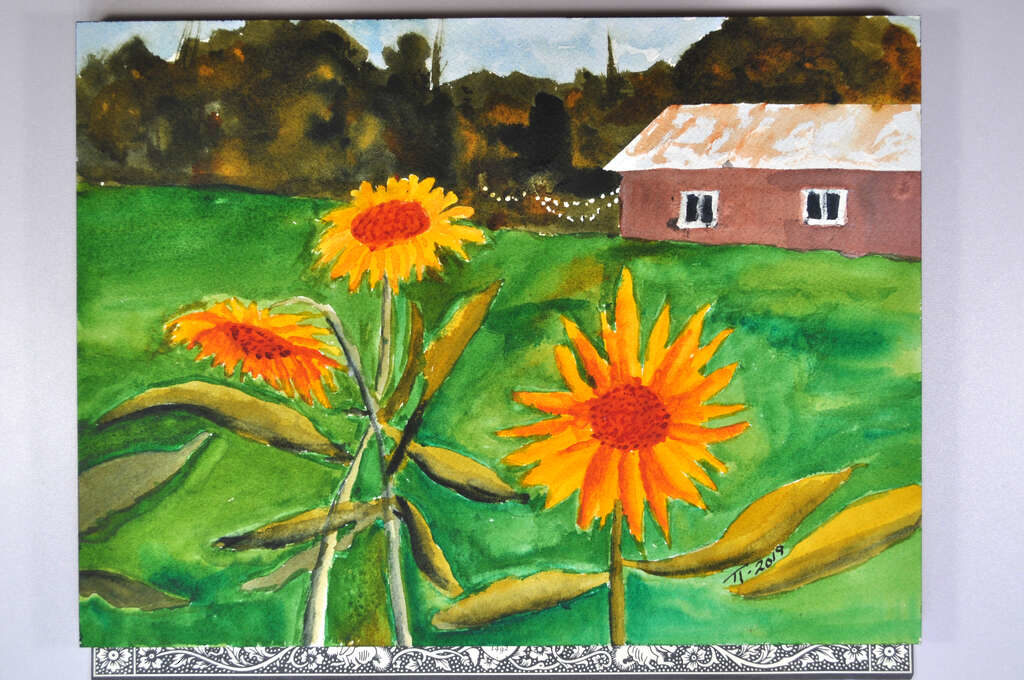 Cropped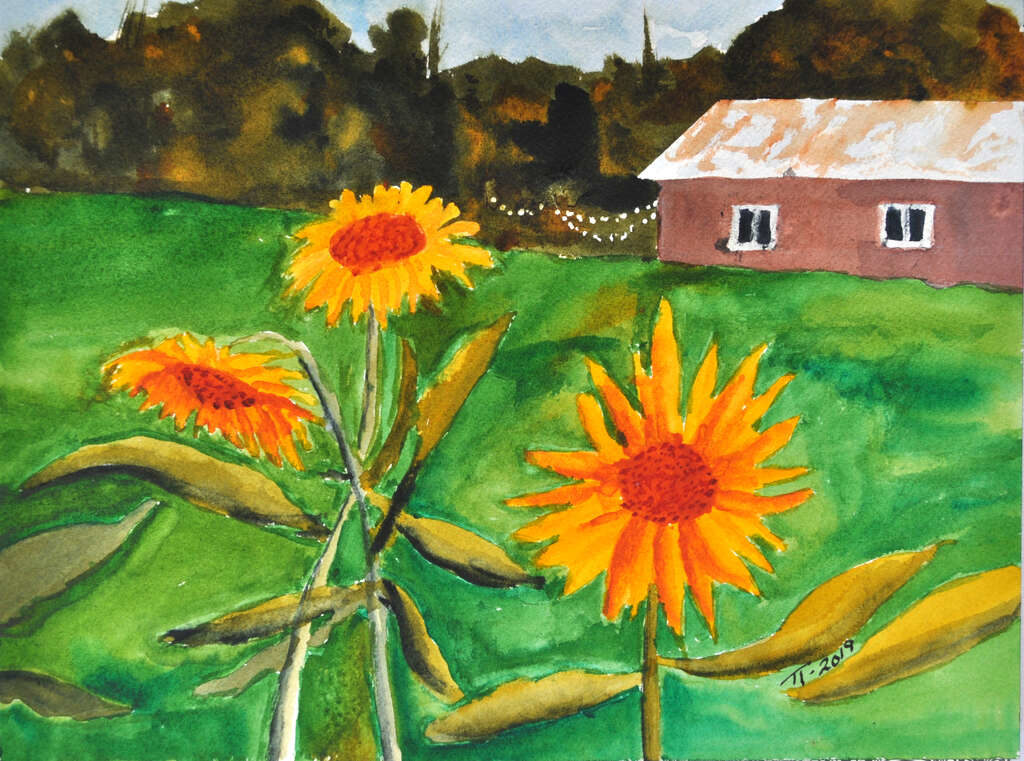 Materials
Paper
Arches 140 pound cold press, 9×12 block
Paint
Indian Yellow (IY)
Permanent Alizarin Crimson (PAC)
Payne's Grey (PG)
Quin Gold (QG)
Quin Burnt Orange (QBO)
French Ultramarine (FU)
Phthalo Green
Brushes
Dreamcatcher #10 round
Dreamcatcher #4 round