This past week, July 19, 2019, famed actor Rutger Hauer passed away. Arguably his most famous moment is in the Blade Runner, when the character he plays, Roy Batty, reaches the end of his life, and he offers up this soliloquy to Decker (Harrison), as proof of his humanity:
"I've seen things you people wouldn't believe. Attack ships on fire off the shoulder of Orion. I've seen C-beams glittering in the dark near the Tannhäuser Gate. All these moments lost in time, like tears in the rain. Time to die.
I decide to do some ink work, adding in some watery effects for rain or tears.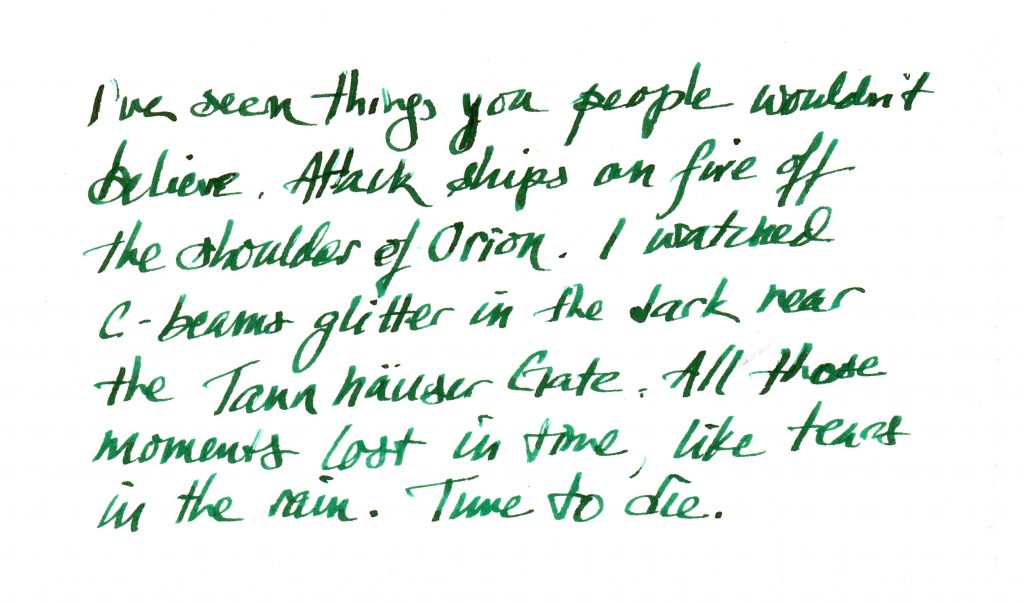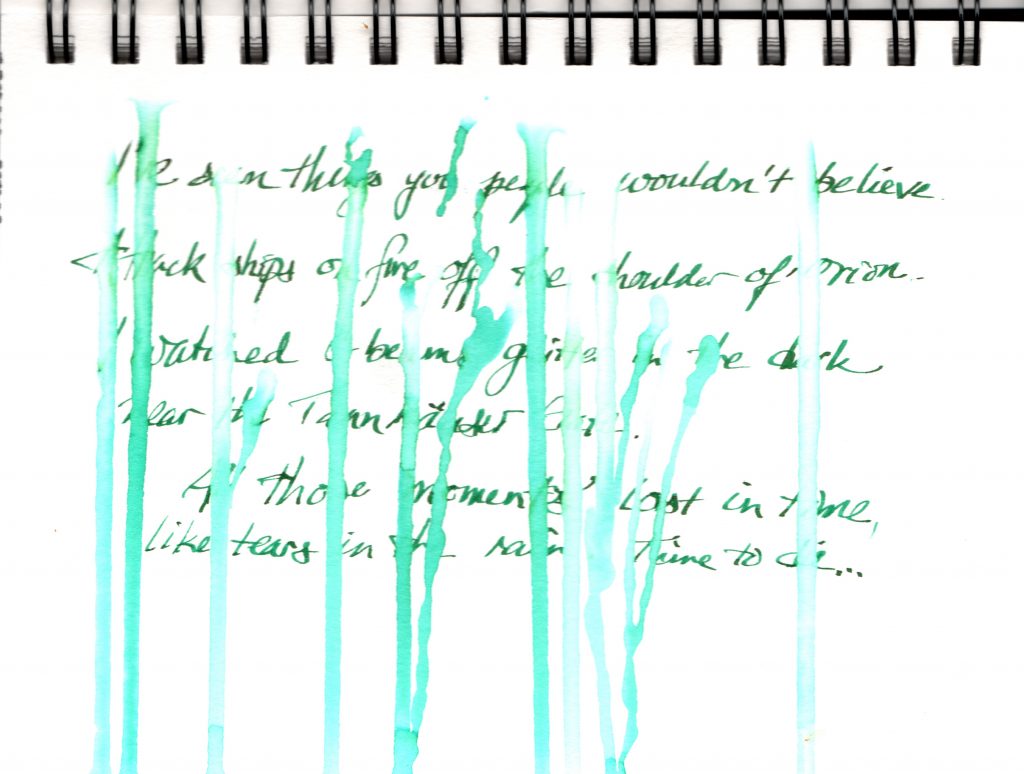 My first actual inking attempt I did straight on the sketchbook, then I tipped it up and used an ink syringe with water to make the runs in the ink.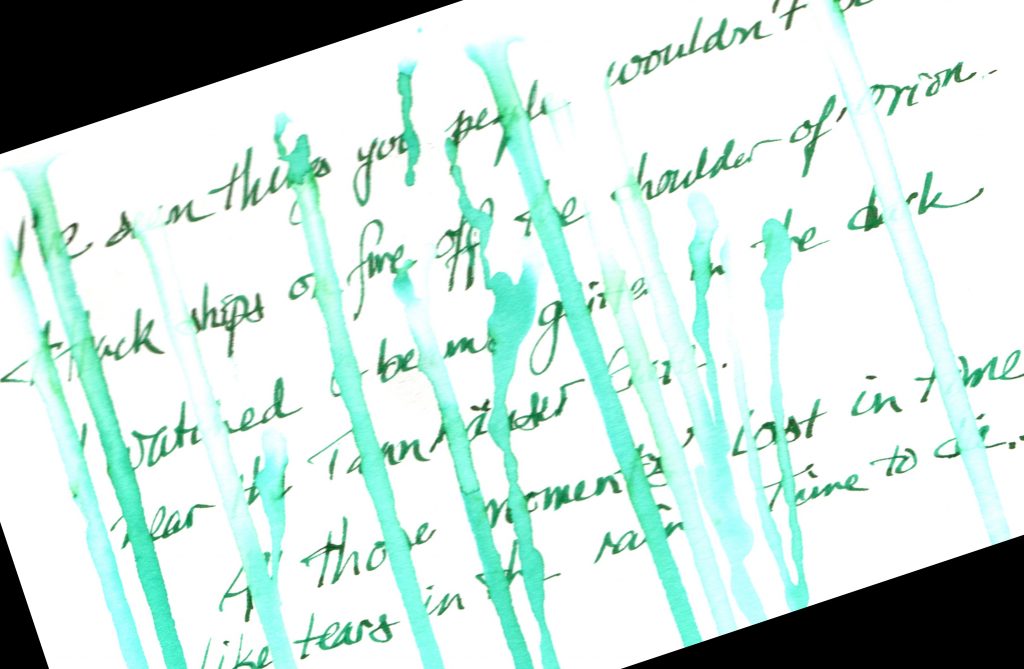 I thought it might be more interesting cropping the image and twisting it. I did this with Affinity Photo. It's okay, I'm not 100% good with the result. But not bad.
This second attempt is done on different paper, and with a different technique. Instead of putting the water on after, I put it down on the paper first and wrote through it. I think I actually had way too much water using the same syringe. At the top, I started with a brown ink in a fine nib, and then started over with the stub nib and red ink.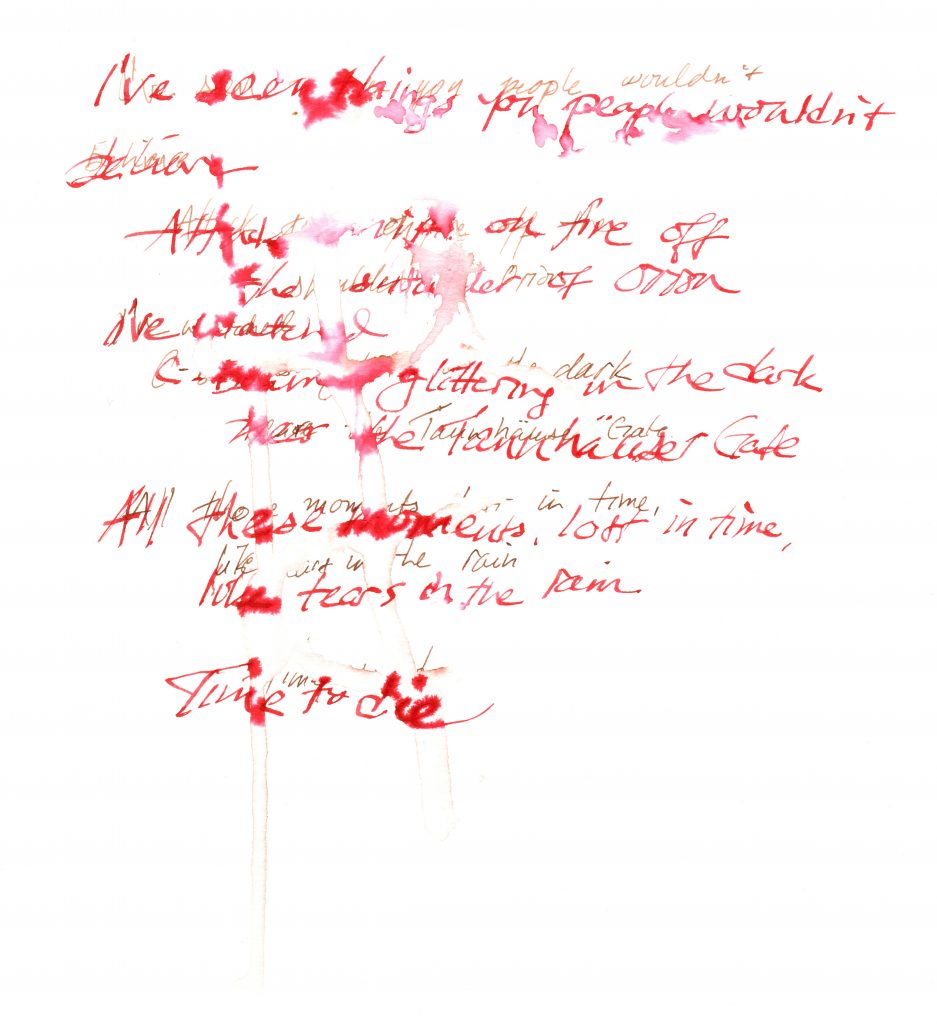 The second attempt had a good idea, and I decided to exploit it here. I first wrote out the quote lightly in the brown ink with the fine point. Then I applied some water (less than before) tipping the paper. Then I wrote the quote over the first one with the stub nib and red ink. After that I tipped the wet paper up to get the water to flow a bit, and used the syringe to scrape in some lines. I definitely think this one is better than the others.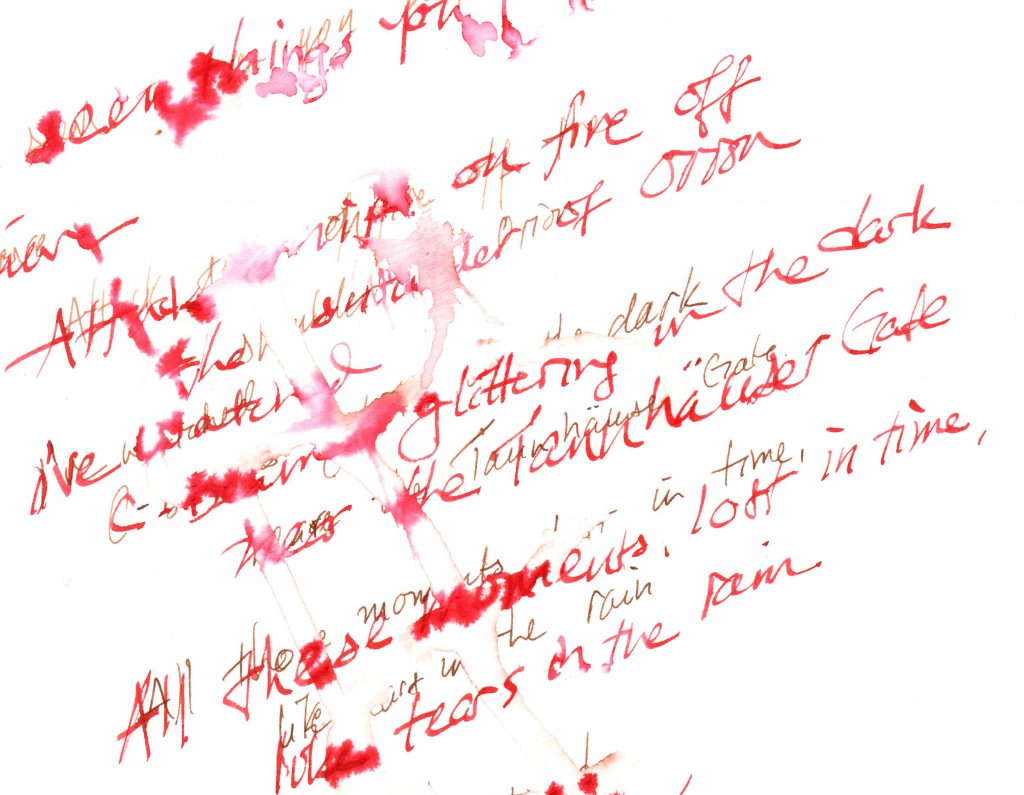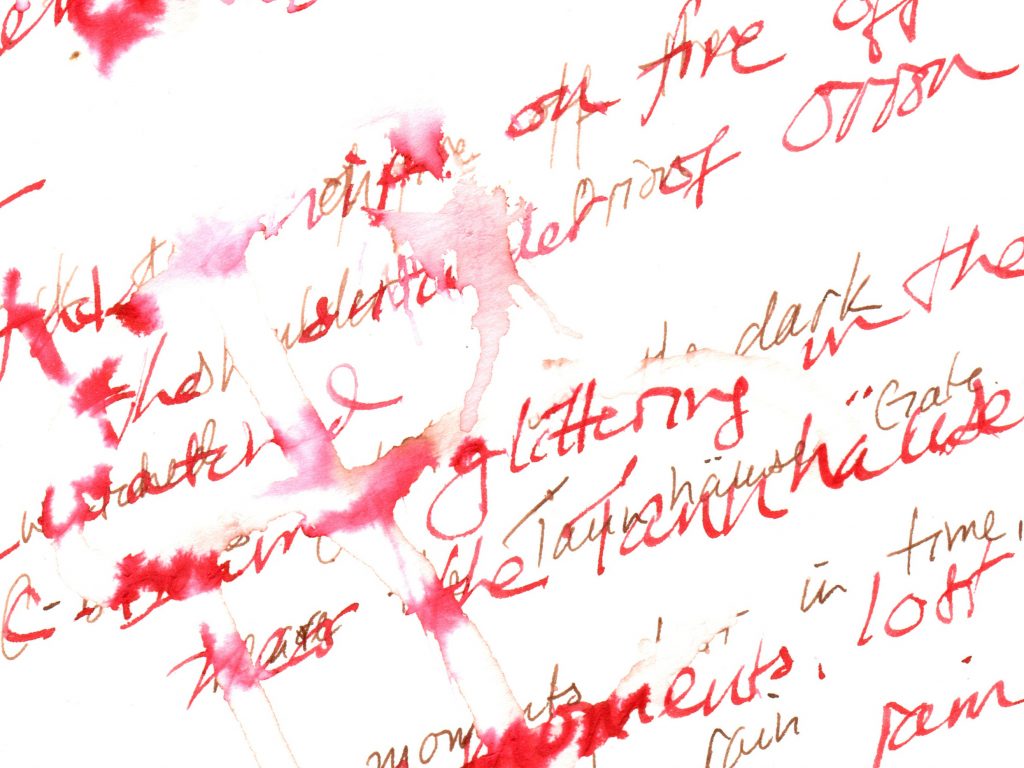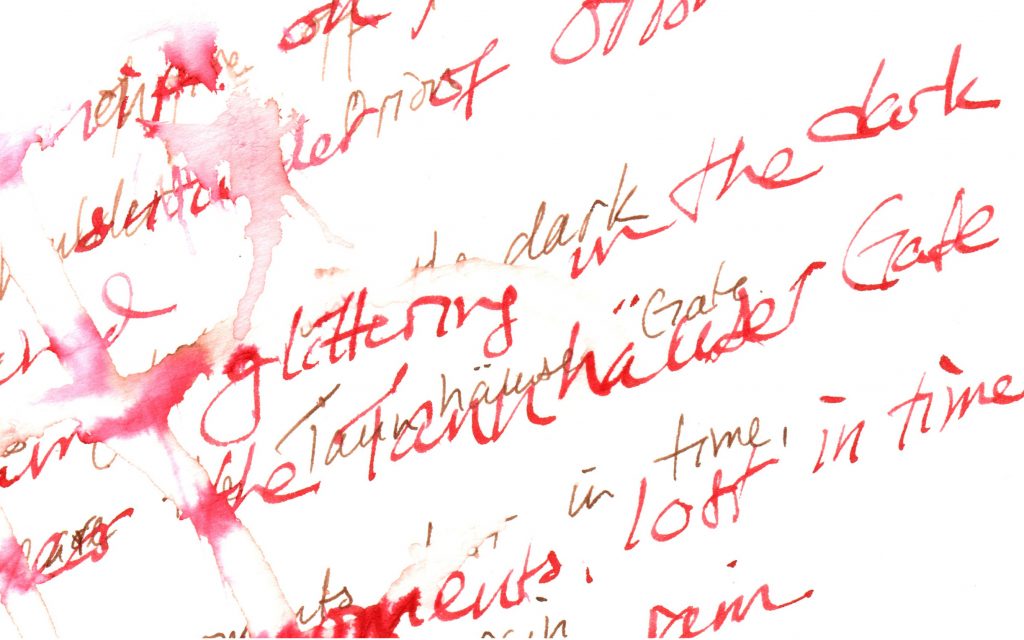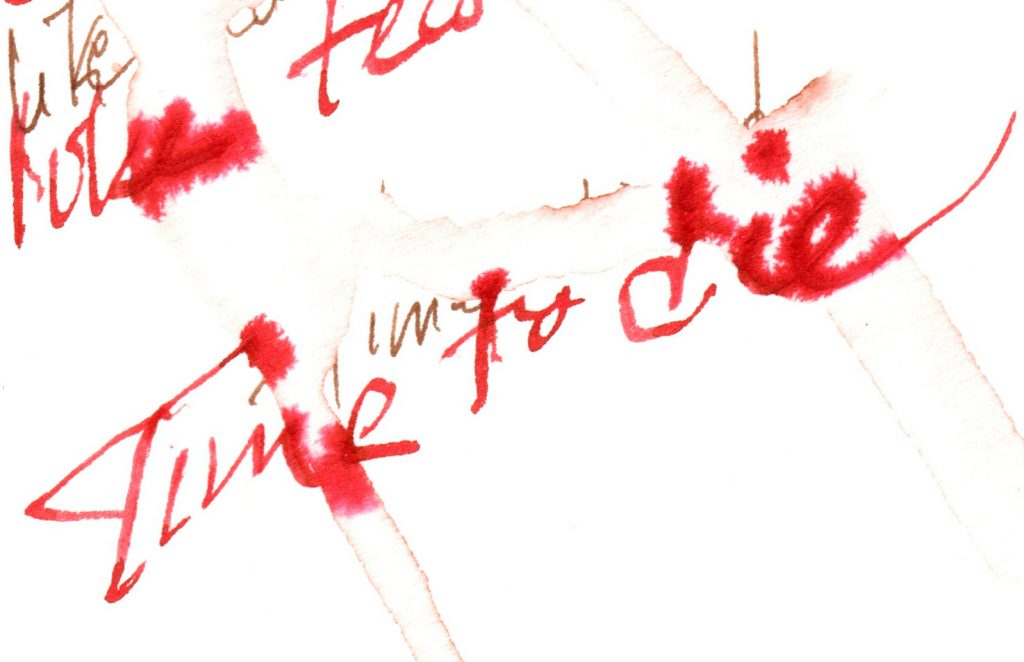 Tools
For this, I used some TWSBI 580 demonstrator pens, with 1.1mm stub and fine nibs.
Inks were:
Monteverde California Teal
Robert Oster Crimson
Robert Oster Cafe Crema
Papers
original was on a spare half-sheet of bristol
the first attempt is on Stillman & Birn Beta
the third and fourth attempts are on Canson XL Bristol