Intro
Following swiftly on the heals of the previous painting, I did another. The wet-in-wet version took about 15 mintues to paint, about a half hour to dry with considerable coaxing from a hair dryer, then about 5 minutes to ink.
After than I decided to go back to a wet on dry technique, as we normally do.
Wet in Wet with Ink
For this one, I had brought a piece of gator-board, which is nicer to work on for this sort of thing. Followed the same procedure:
using a 2 inch hake brush, soaked the board with clean water
soaked both sides of the paper and stuck it to the board (just with water surface tension!)
Wet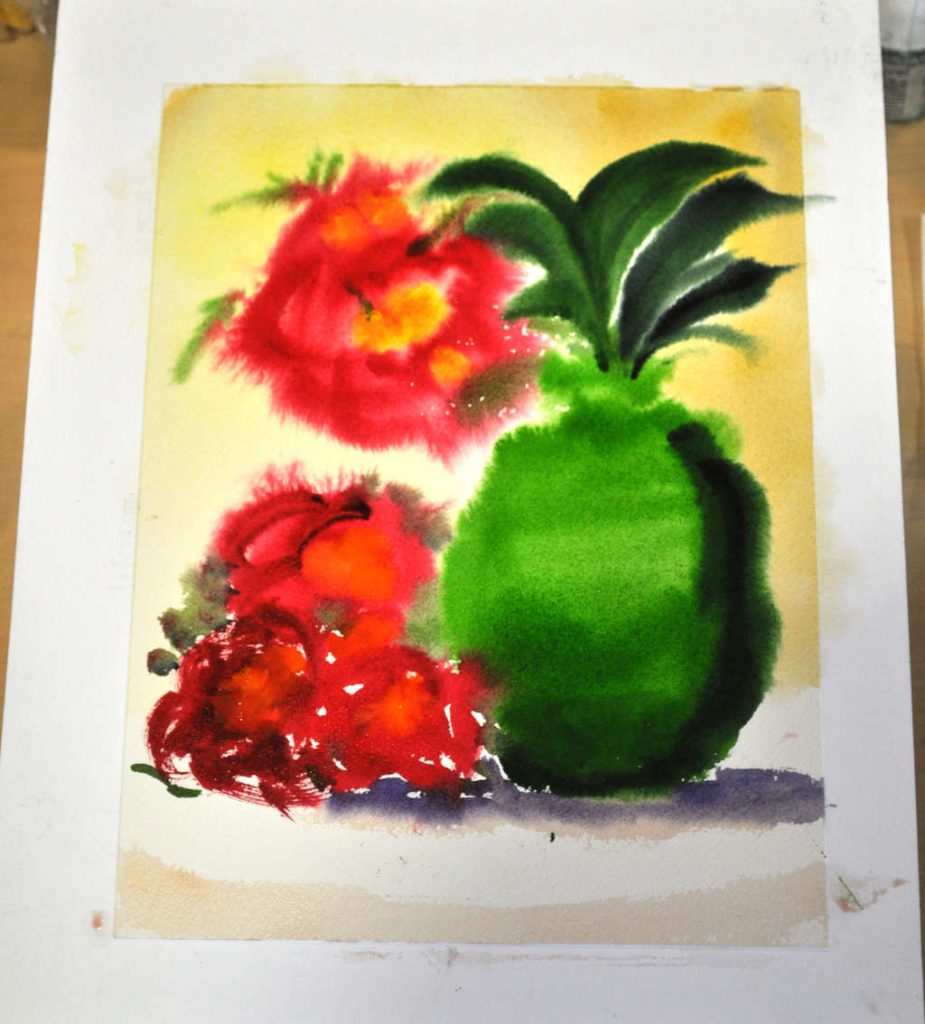 The wet image was done so fast, less than 15 minutes to paint this out. Again, I am going for fuzzy and non-descript, so that the inking process adds to the art as well. The wall was done with an on-paper mix of Raw Sienna and Cobalt Blue Violet. The vase is mainly Sap Green, with some Payne's Grey for the darker parts. The flowers are Aureolin and New Gamboge for the middles, Perm Alizarin Crimson for the petals. The table cloth front is more Raw Sienna and C.B.V., but palette mixed to keep it from getting too strong.
Dry
Cropped
Materials
Paper
Arches 140lb cold press, 9×12 sheet on gatorboard
Paint
Winsor Newton Aureolin
Winsor Newton New Gamboge
Winsor Newton Permanent Alizarin Crimson
Winsor Newton Sap Green
Daniel Smith Payne's Grey
Daniel Smith Raw Sienna
Dry (traditional)
I did the same source but in a more traditional approach, because I really like the composition. I kept it fast and loose as much as I could.
Back wall and vase, dry
Peonies
Table and runner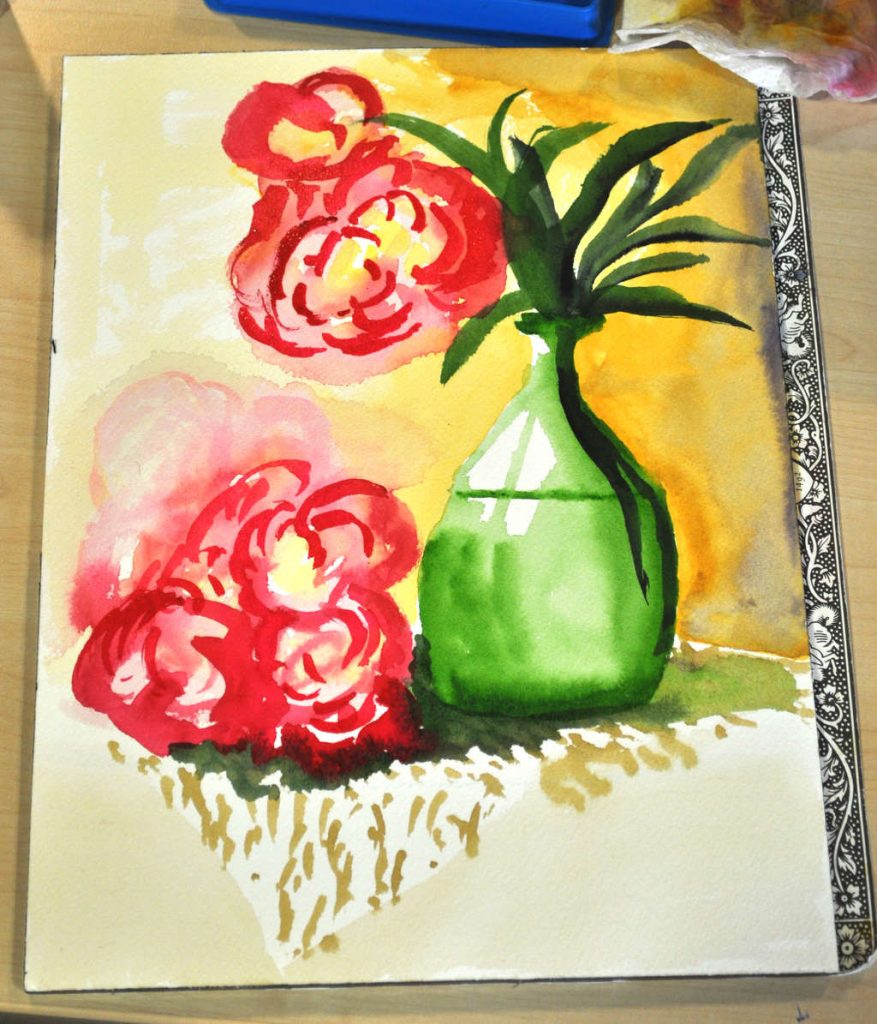 I wasn't really sure how I was going to execute the table runner, which was a lacy knit thing, dangling over the edge of the table. In the end, I painted the front cloth in a light raw sienna with a touch of C.B.V. The runner is patched in loosely with a bit more C.B.V added to the Raw Sienna.
The shadows on the image were mainly very bright behind the vase, indicating the light-shine, and darker between the bunch on the table and the vase.
Deeper values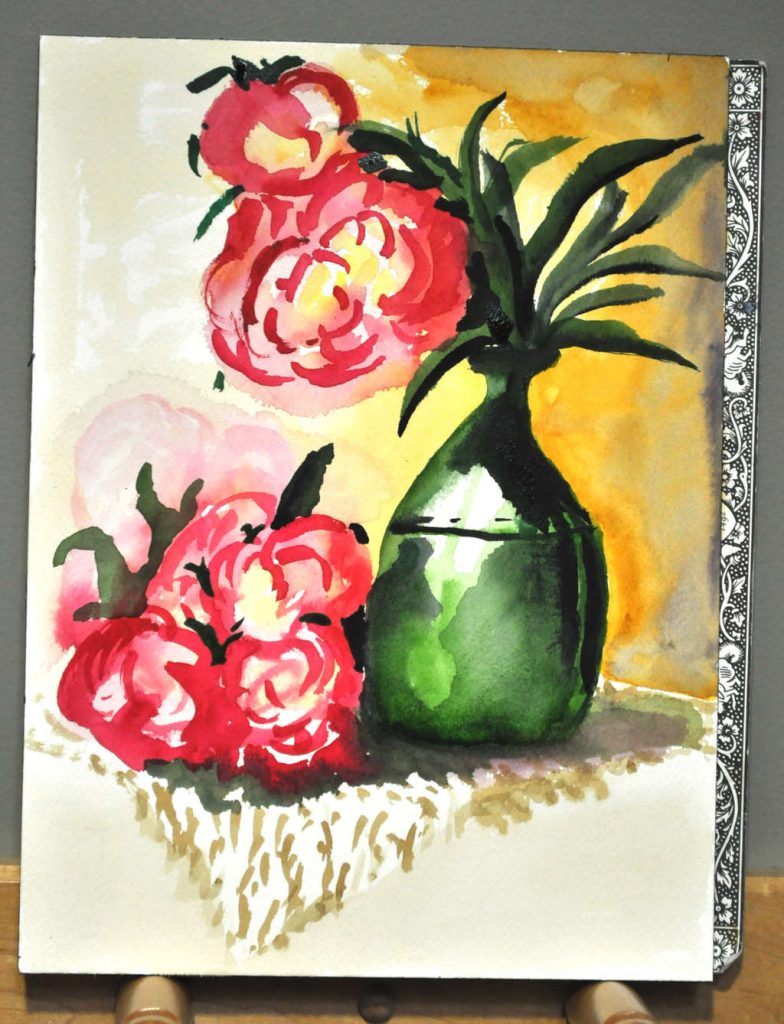 I really wanted the painting to pop, especially the flowers. I added darker bits of leaves popping around some of the petals, deepened the P.A.C. on the petals in places, and deepened the values in the vase with more pure Sap Green, and mixures of Payne's Grey. I finally added a bit of violet, mixing the CBV with PAC to make the shadow tint.
Final
Materials
Paper
Arches, 140lb cold press, 9×12 block
Paint
Winsor Newton Aureolin
Winsor Newton Permanent Alizarin Crimson
Winsor Newton Sap Green
Daniel Smith Payne's Grey
Winsor Newton Raw Sienna
Daniel Smith Cobalt Blue Violet