Today's painting class assignment was a picture that one of the other students found that was a fairly impressionistic watercolour of some vases with flowers on a patio.
Source Photo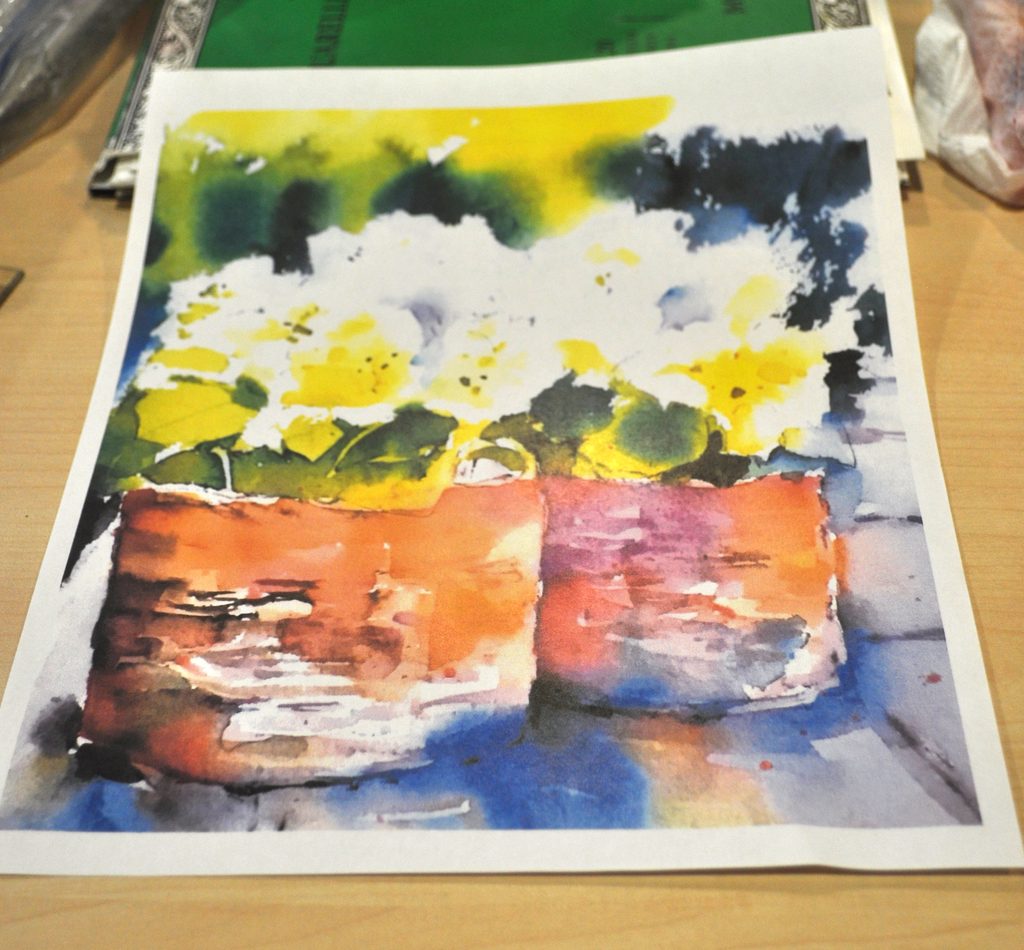 The source image is a watercolour painting of 3 vases with flowers sitting on a patio. We studied it for awhile, each of us determining how we'd approach the painting. The teachers suggestion for editing was to make it more obvious there are 3 pots, and to align the bottoms in a slight upward angle, so the middle and right pots don't form a connection.
Sketch in blue pencil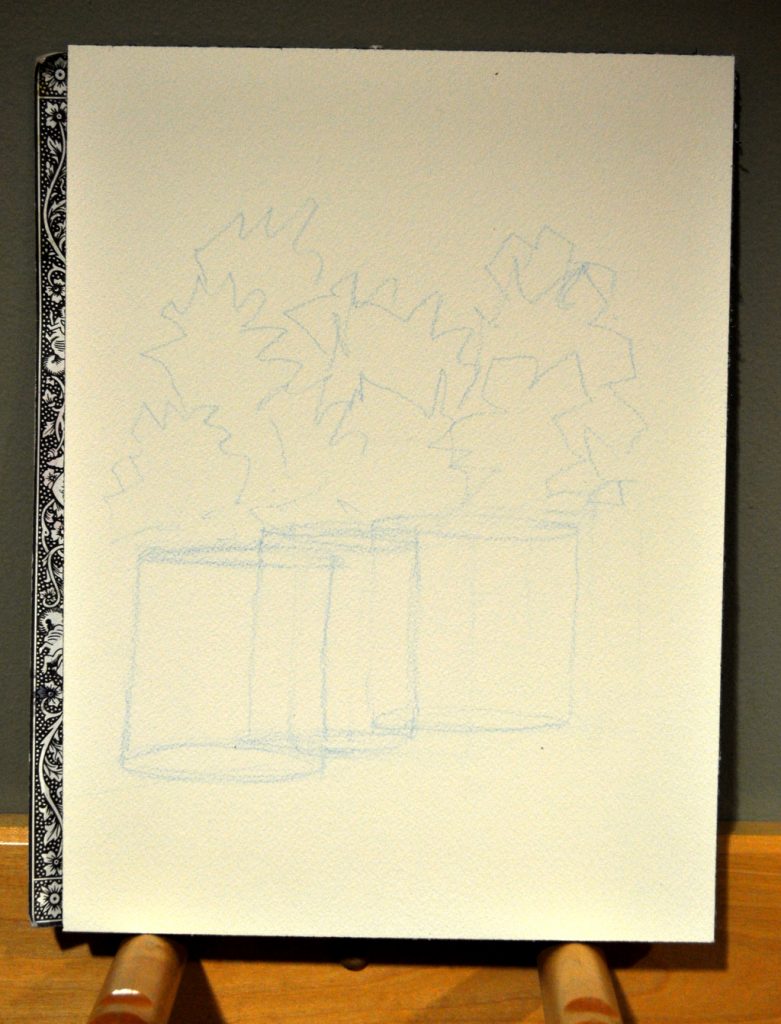 Using a photo blue pencil, I sketched in mainly where the pots would go, adding some outlines for the flowers.
Side vases, and background leaves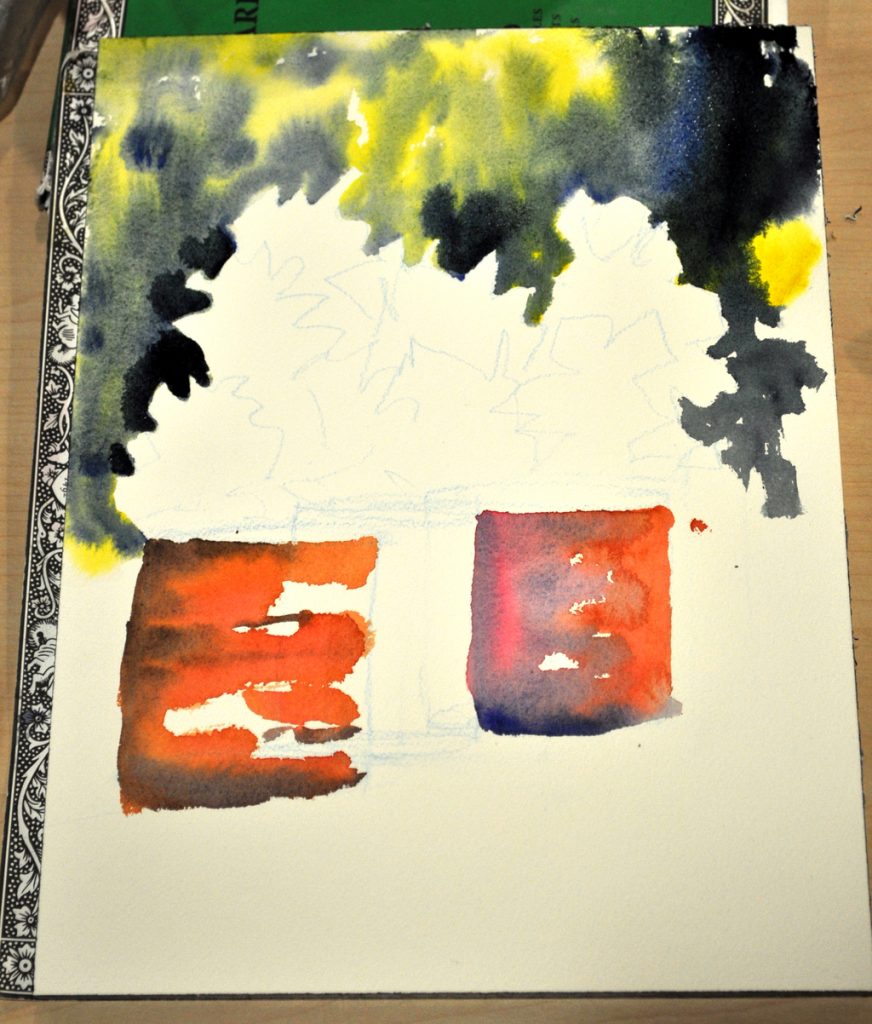 I put in the vases on each side, so they'd have time to dry down before putting in the middle vase. I used combinations of Quin Burnt Orange, Permanent Rose, and French Ultramarine, putting in very wet and juicy colour on dry paper, trying to leave some white for reflections. I wish I'd left more white, but this is okay.
For the background leaves, I inverted the block , standing it up on a make-shift easel using my paper towel roll. This I first wet the paper, carefully going around the blossoms. Then I dropped in some really juicy Aureolin (Cobalt Yellow), followed by juicy French Ultramarine. I followed that with some touches of Payne's Grey to make some parts really dark.
I painted the top in thirds, so the paper wouldn't dry out too much.
Center vase, with some details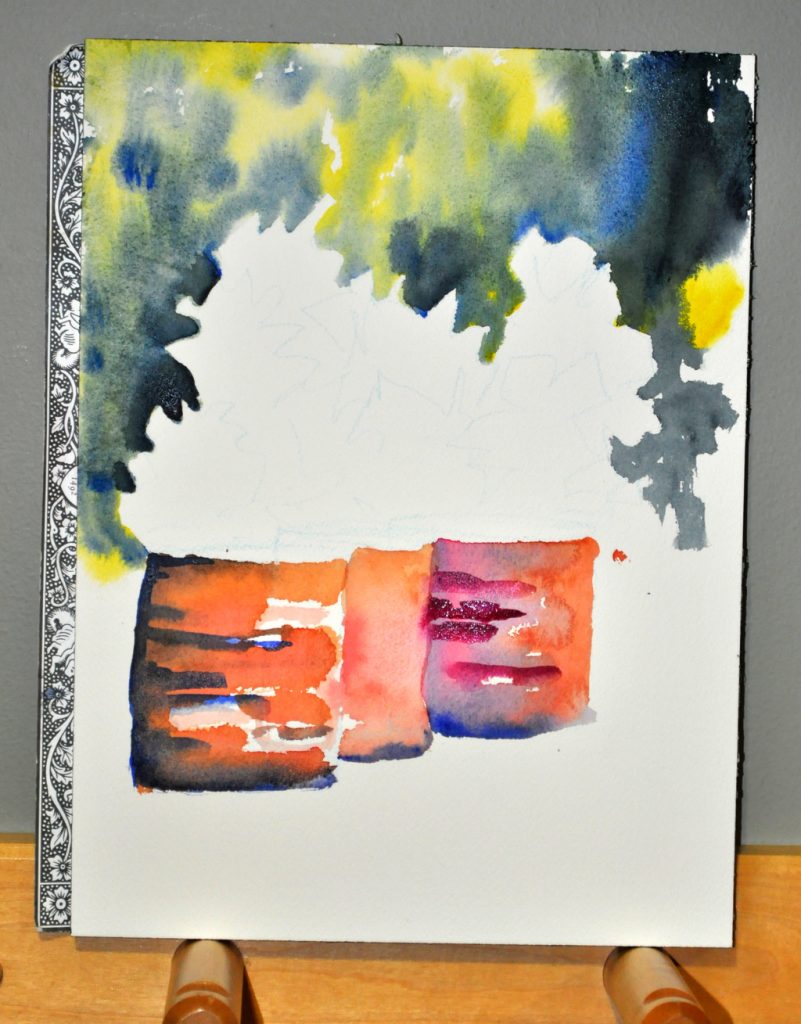 Here, with the two side vases dry, I added in the middle vase, and a few more details and shading on the vases.
Lower leaves and patio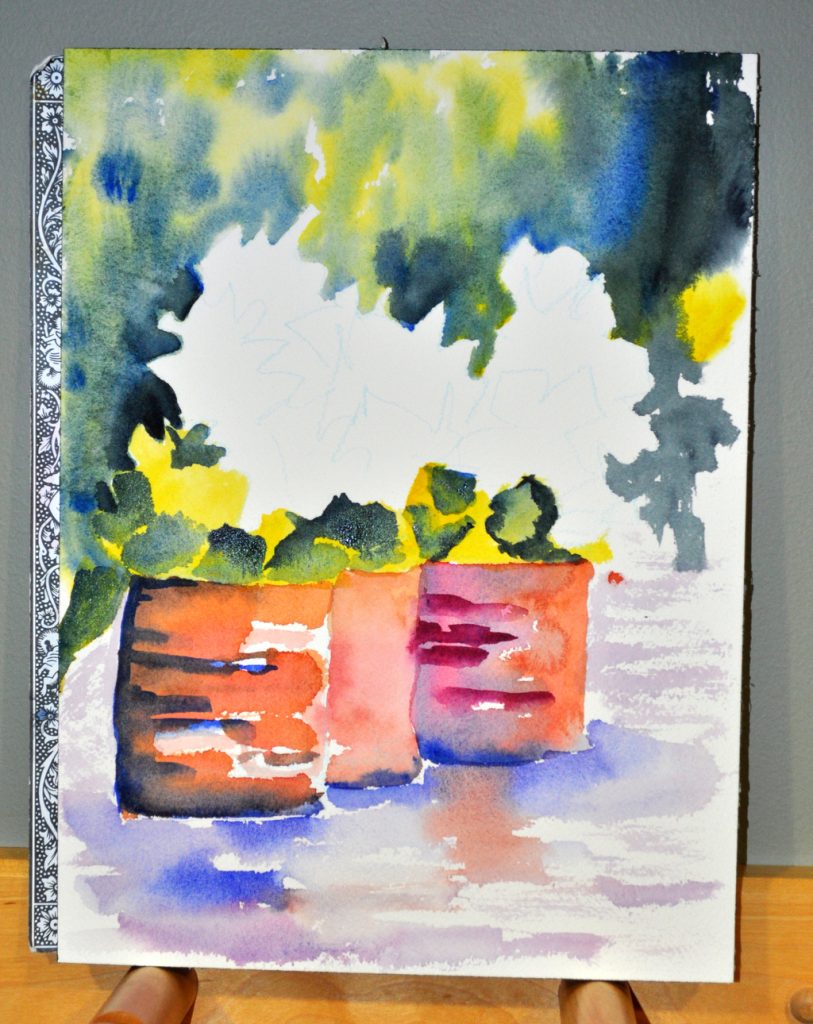 In this step, I ran a vibrant underpainting in Aureolin above the vases to give the lower set of leaves a more glowing effect. While still wet, I put in French Ultramarine to provide the green of the leaves, and finally just a touch of Payne's Grey in a couple spots.
Flower Petal Underpainting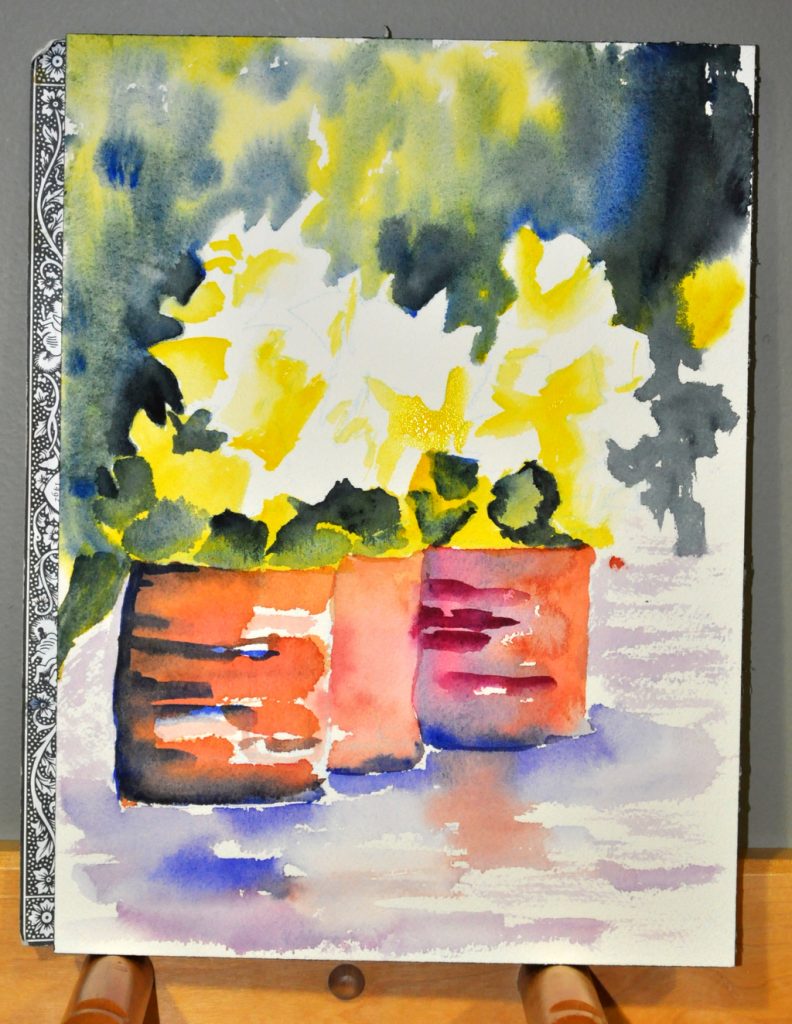 The petals had some nice yellow in them, so I continued with the Aureolin, feathering some of the edges to soften their effects.
Flower petal shadows and patio bricks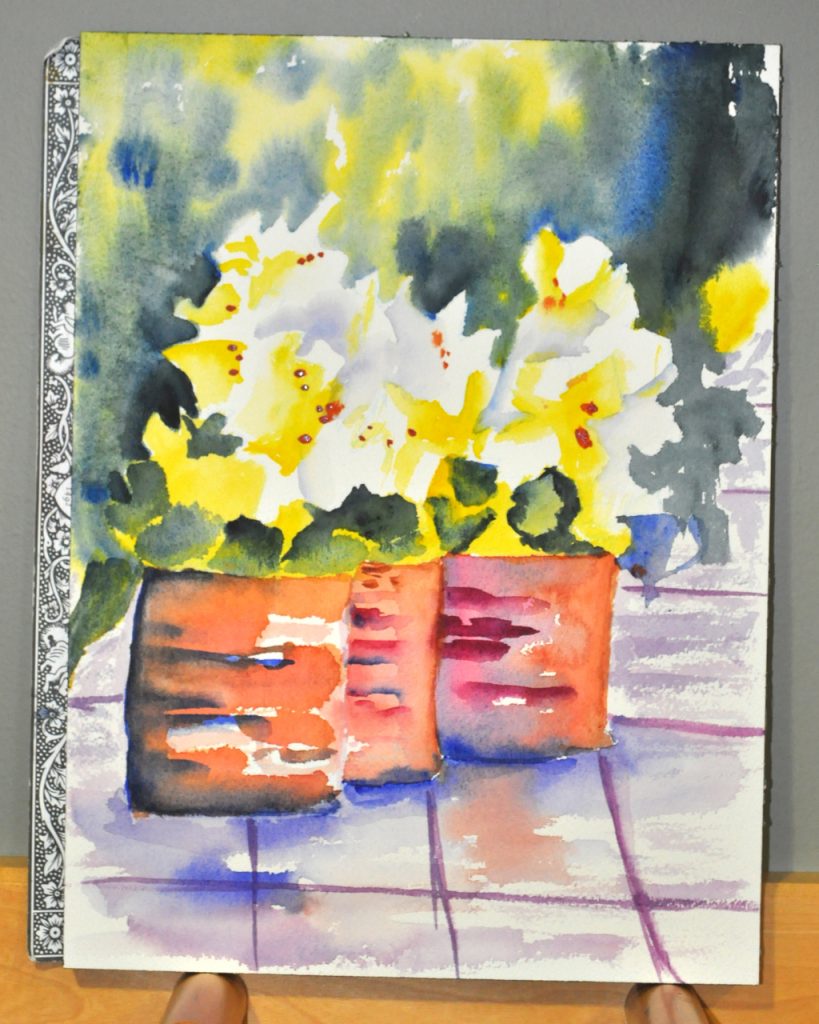 I added some pale violet to the flower petals to give them shading and some depth, and put in some of the stamens of the blossoms.
Adding in the patio brick lines with a mix of French Ultramarine and Permanent Rose.
At this point, I declared the painting done.
Final, unsigned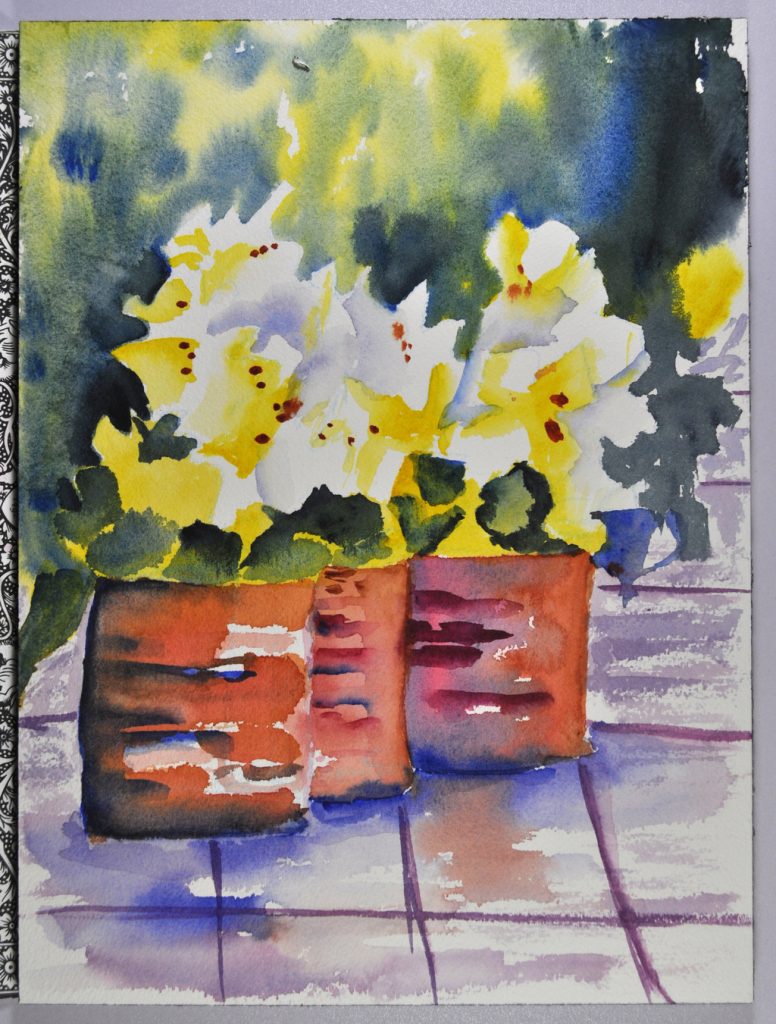 Back home, on the copy stand.
Final Signed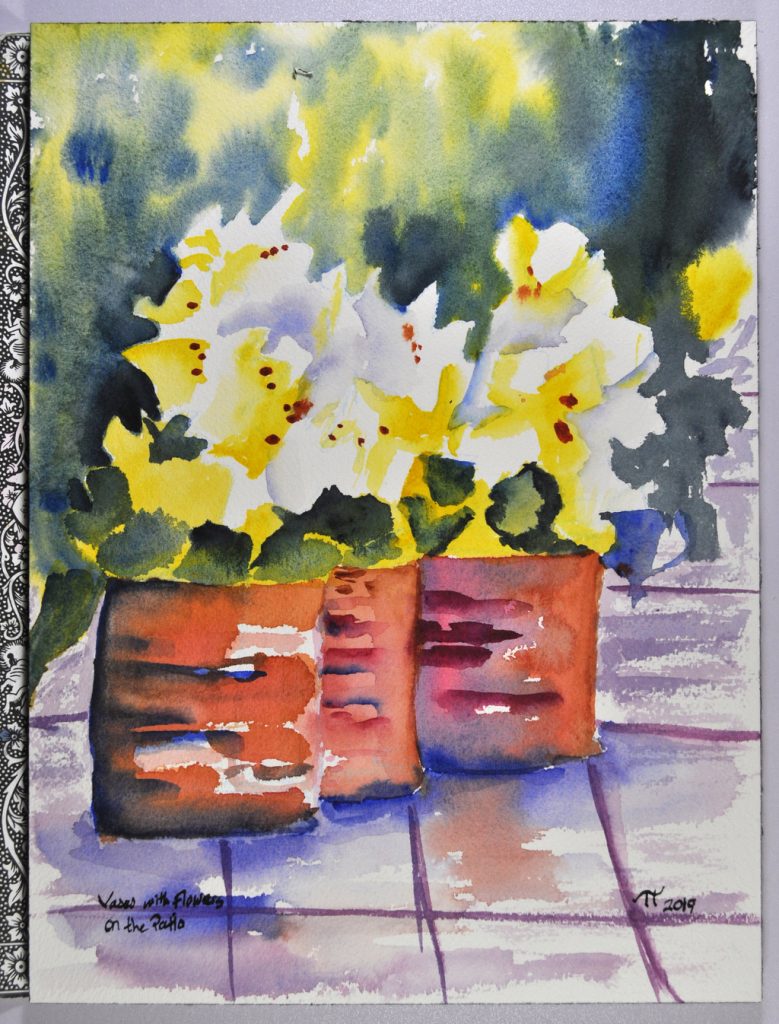 Final version, signed, back home on the copy stand.
Tighter crop on final, signed painting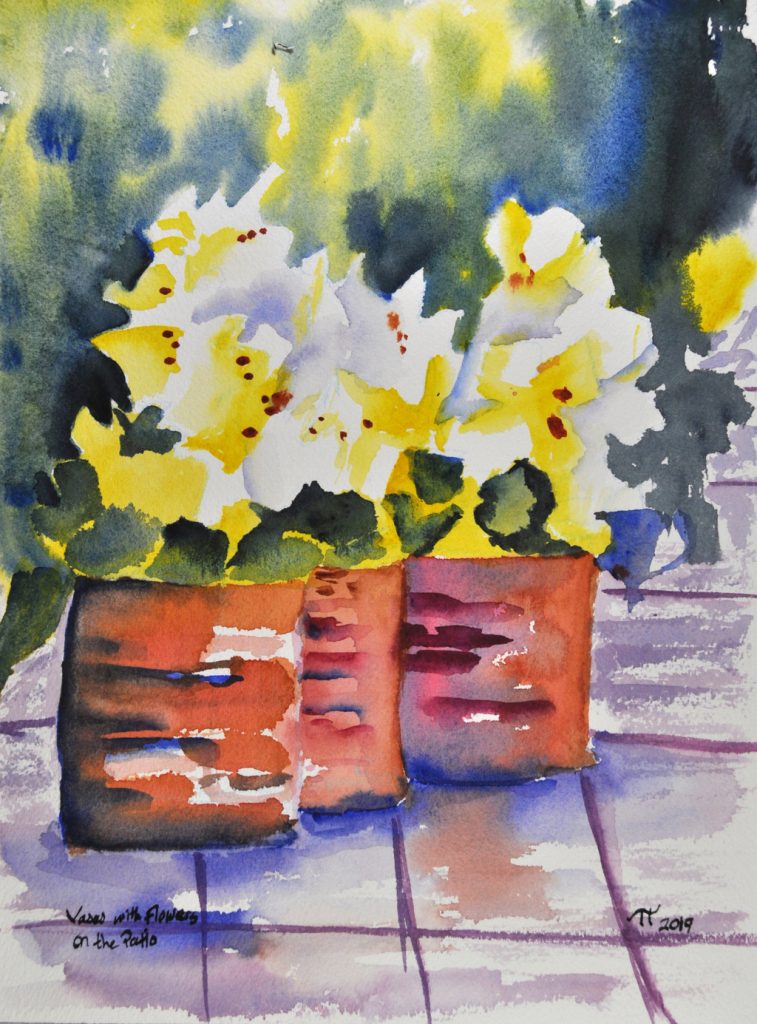 Same as the prior, but cropped to the edges of the paper.