On Wednesday, March 6th, 2019, the 2 watercolour classes and the coloured pencil class got together to celebrate Vincent van Gogh's birthday by learning a little about him and recreating his famous painting, "Starry Night", some of us in coloured pencil and some of us in watercolour.
We had been given a source image to work from, which was great because I have seen "Starry Night" many, many times, I have not studied it up close. I loaded the source photo on my iPad in Procreate so I could zoom in, turn it, and really get up close and personal with Vincent's brush strokes.
Doing the painting in watercolour of course is going to be vastly different than the original done in oils. Taking that into account, the most important thing of all was to save the whites, so we'd get that great starry glow and feel the wind blowing through the skies, as with Vincent's.
I traced the image from a print out of the source photo on black and white laser printer. This gave me a good sized image, but not one that filled the entire paper, which was what I was hoping for.
Applying Masking Fluid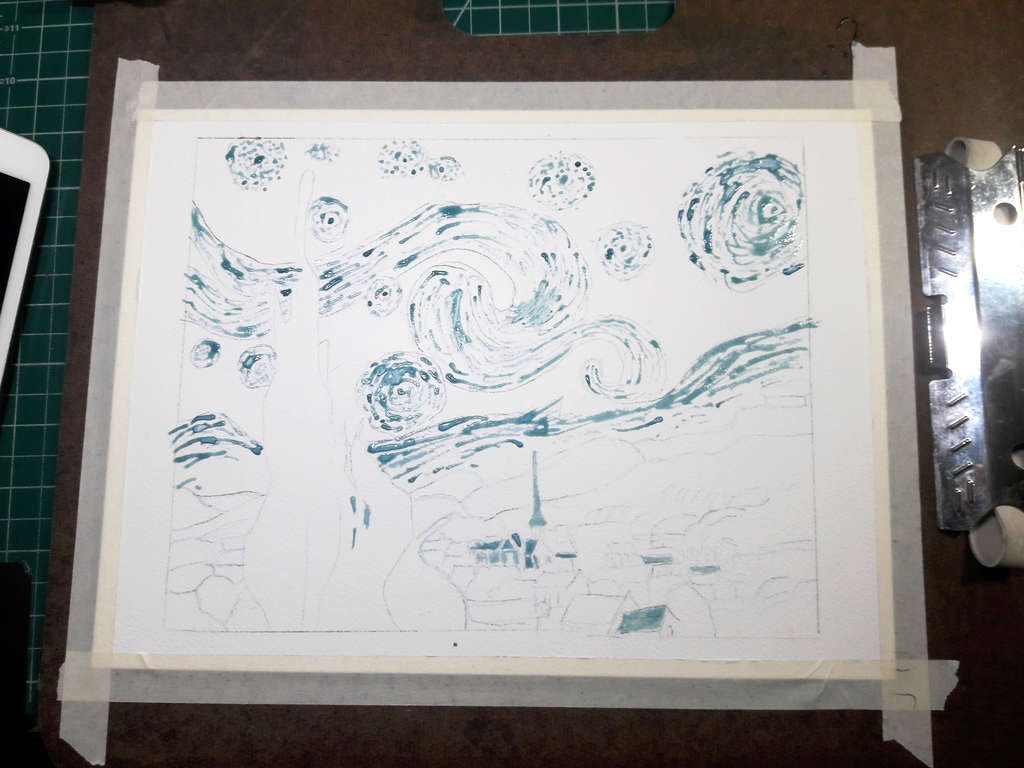 I'm using Peboe masking liquid, and I used a small dot stylus to draw the masking fluid onto the surface of the watercolour paper. I didn't cover whole areas like some did, just the space where I wanted pure white to be saved.
Since I had a photo, I inverted it: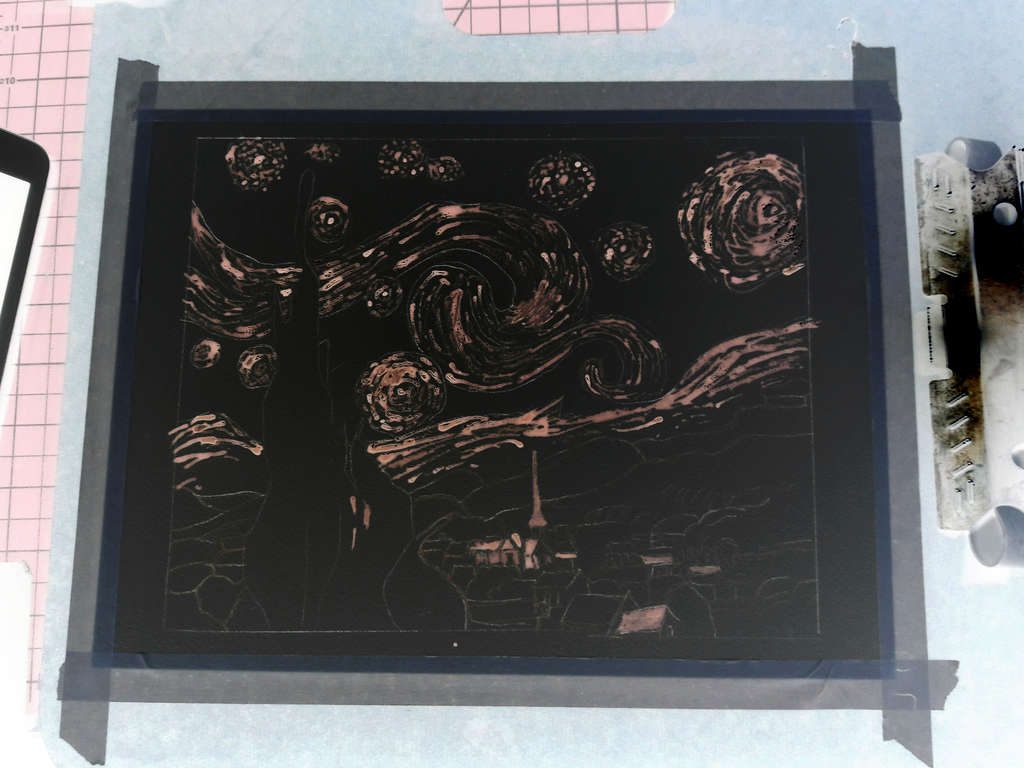 I thought it would be fun to see, but even more so it gave me a good feeling for how the final was going to look.
First painting day, sketch with masking fluid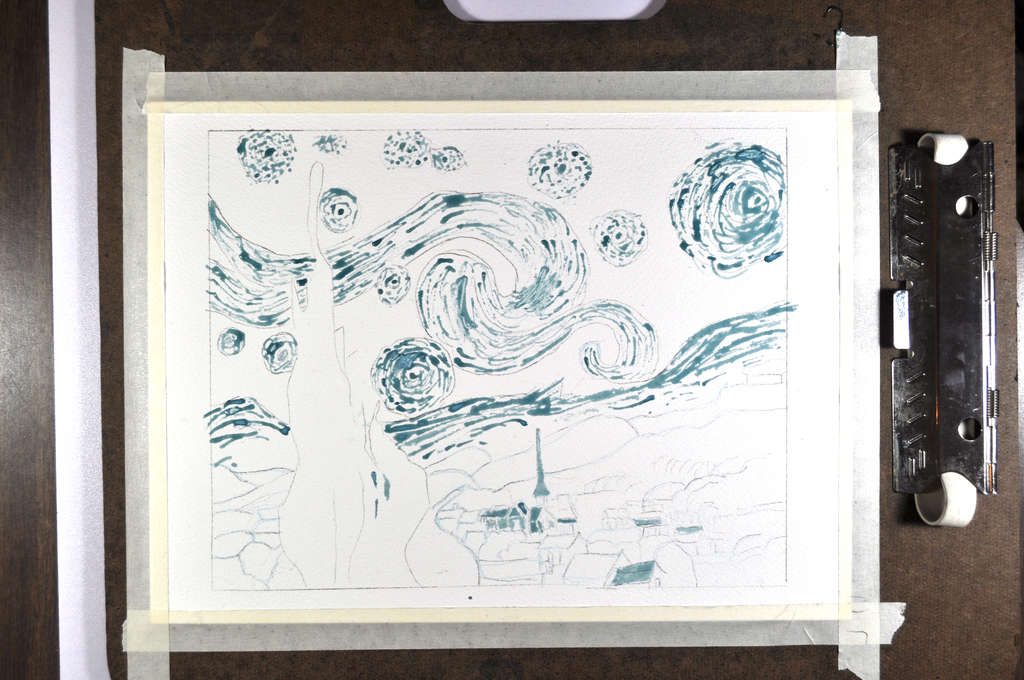 Nothing's changed from the previous version, this image was taken in the class the first day, March 6th. Getting ready to start and hearing about Vincent.
A sense of the place with all the classes combined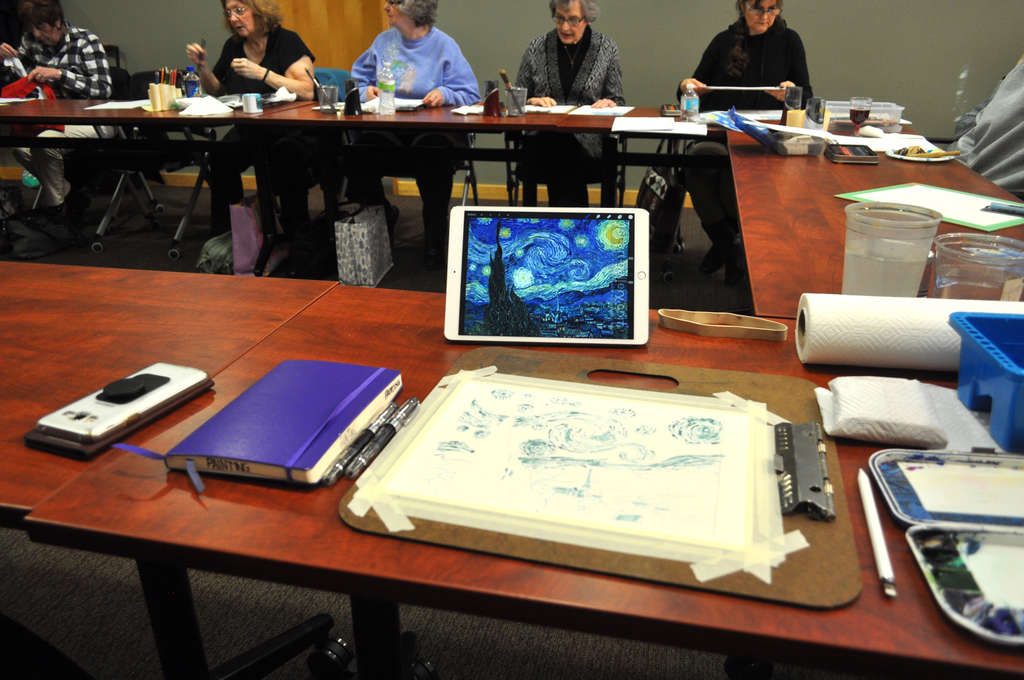 We had over 20 people in the class; normally I get to spread out on an entire table (about 48 inches wide) but I had to really squish my work area in to accommodate everyone. It was fun, we had a cozy little corner and we talked amongst ourselves.
Working on the Sky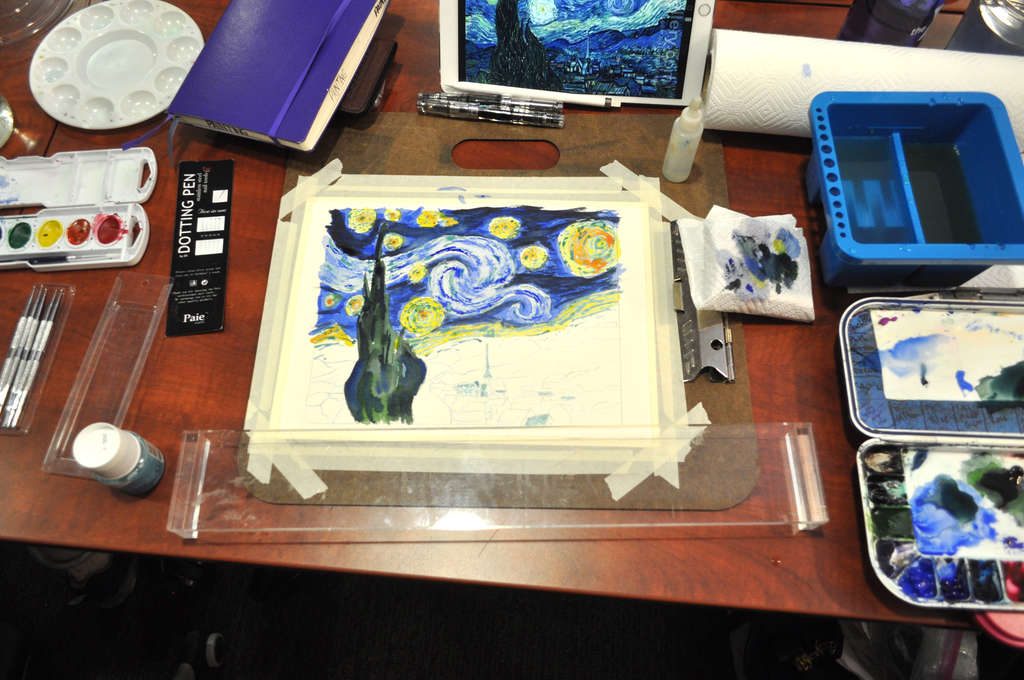 I've done pretty much the entire sky by this point, including the wind, moon, and stars. I've also finished the biggest part of the tree, leaving the ground and village for next time.
The background of the sky is a mix, on paper, of cobalt blue, french ultramarine, and payne's grey, to get the darkness so reminiscent of Vincent's paintings.
The stars are aureolin (cobalt yellow) and new gamboge, the crescent part of the moon is new gamboge.
The wind is a pale cobalt blue with streaks of french ultramarine dropped in while it was wet.
The upper part of the hills was mainly aureolin.
The tree was a mixture, on the paper and in the palette of sap green and french ultramarine, with bits of quin burnt orange dropped in.
Masking fluid removed from the top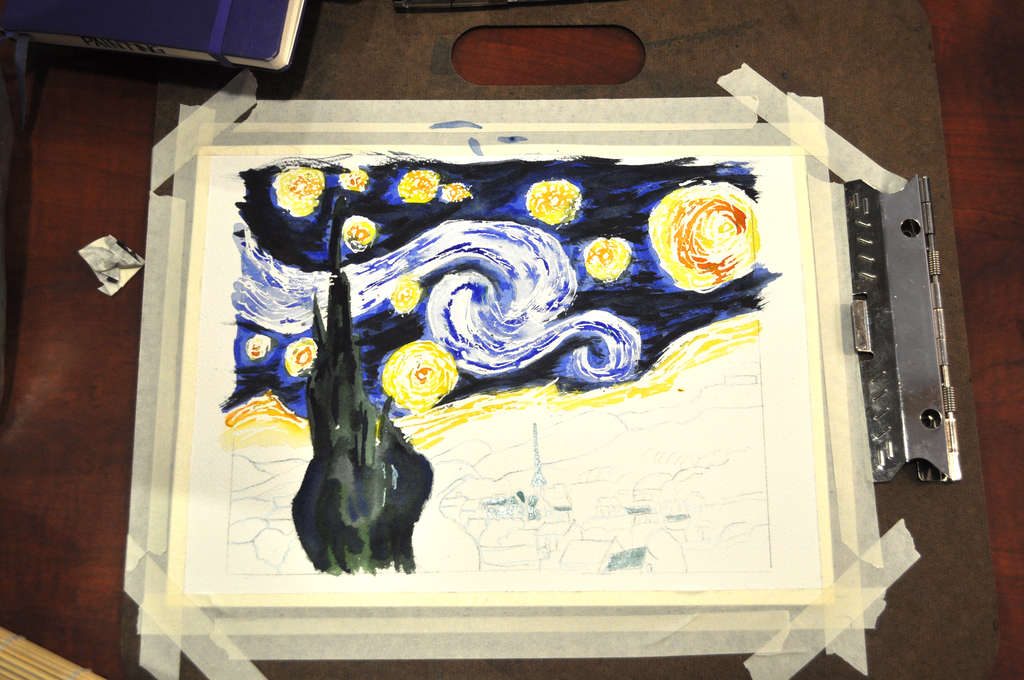 Here's the painting in progress above, after everything has dried and the masking fluid removed from the sky area only.
Progress on painting at end of first session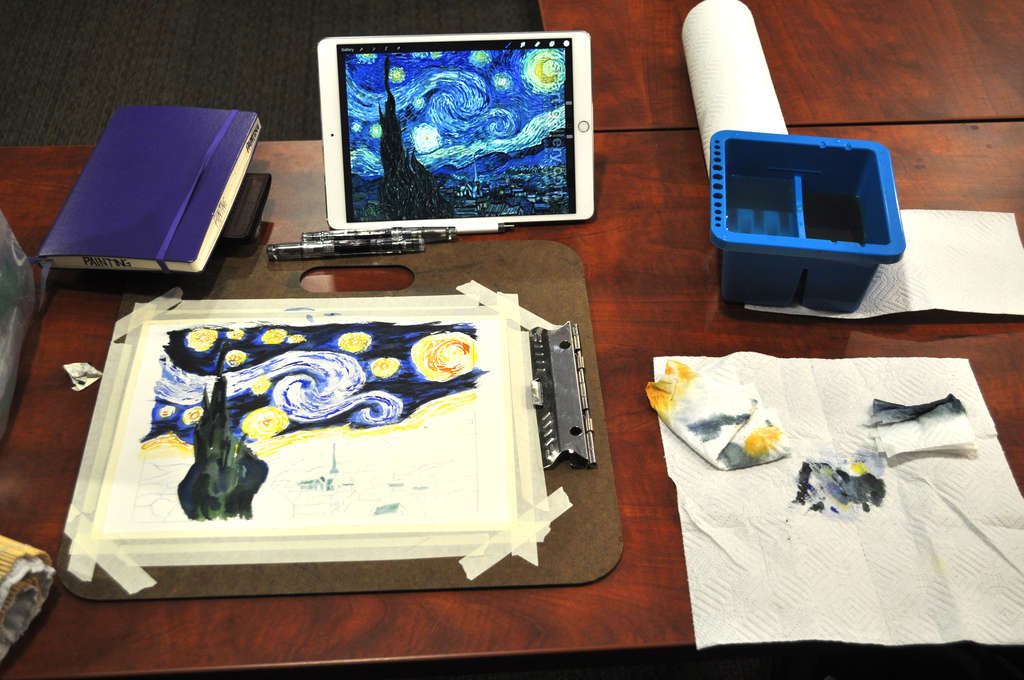 Sort of a tableau, especially showing the paint rags that everyone wants to see.
Start of second session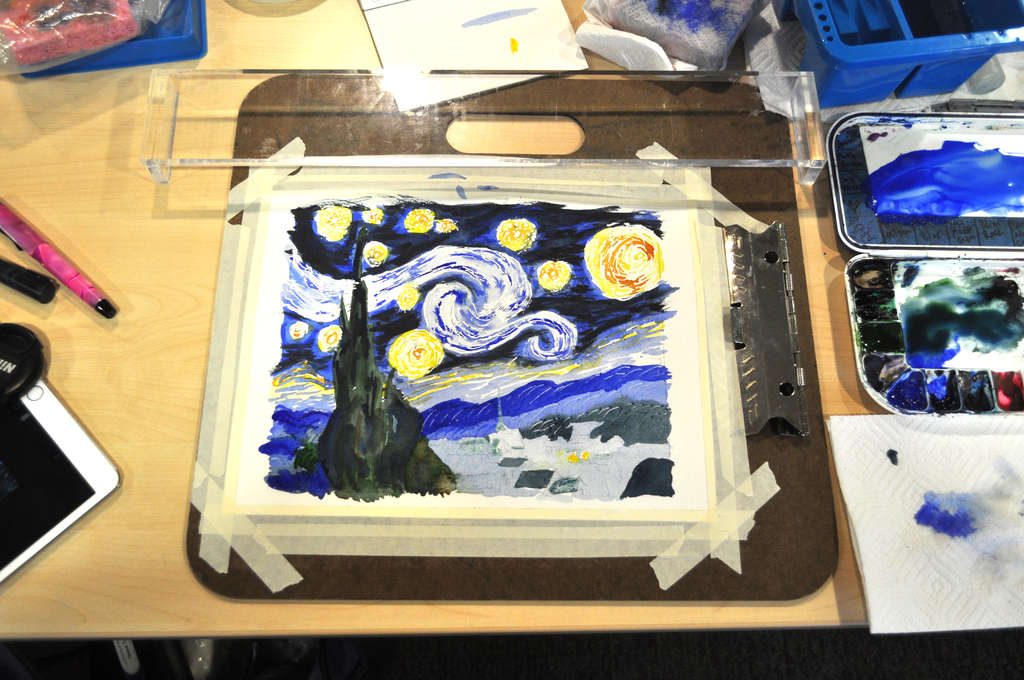 I filled in the ground and village foreground, and more of the tree. There is a lot of stuff going on in the village in Vincent's painting, and I wanted to capture some of that, but still stay true to watercolour of less detail, more gesture. I used the back of my flat brush which has a nice wedge to it to scrape some of the hills to give them a bit of the same idea that Vincent's brush strokes make so elloquently.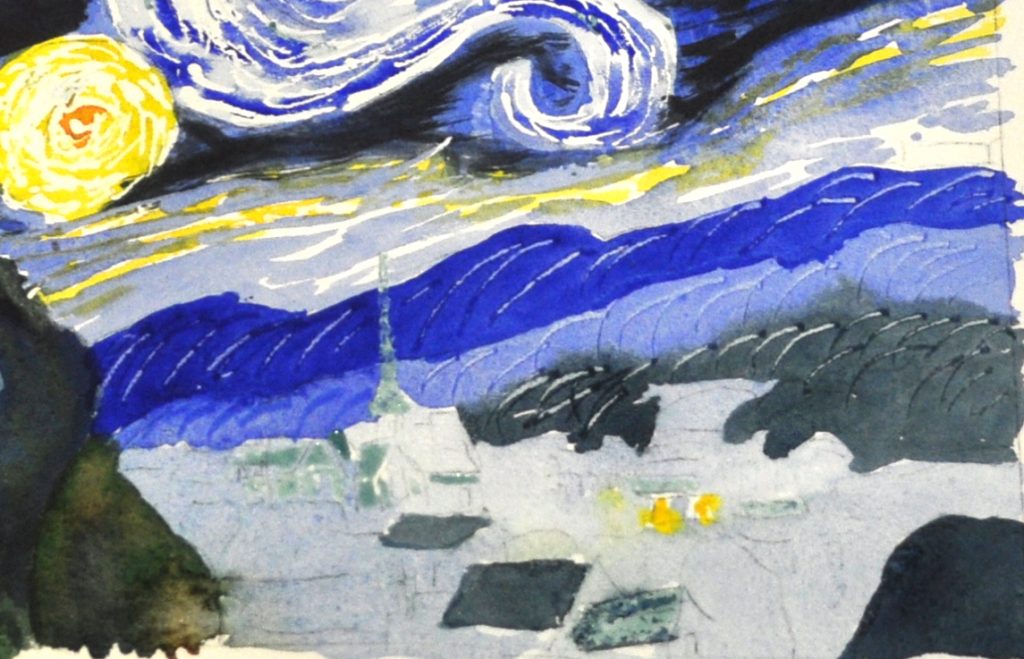 Here in the detail, you can see where I've scraped into the paint and paper to create the textures. The village mostly has a pale blue underpainting, except for some lights showing in a few windows.
Ground and Village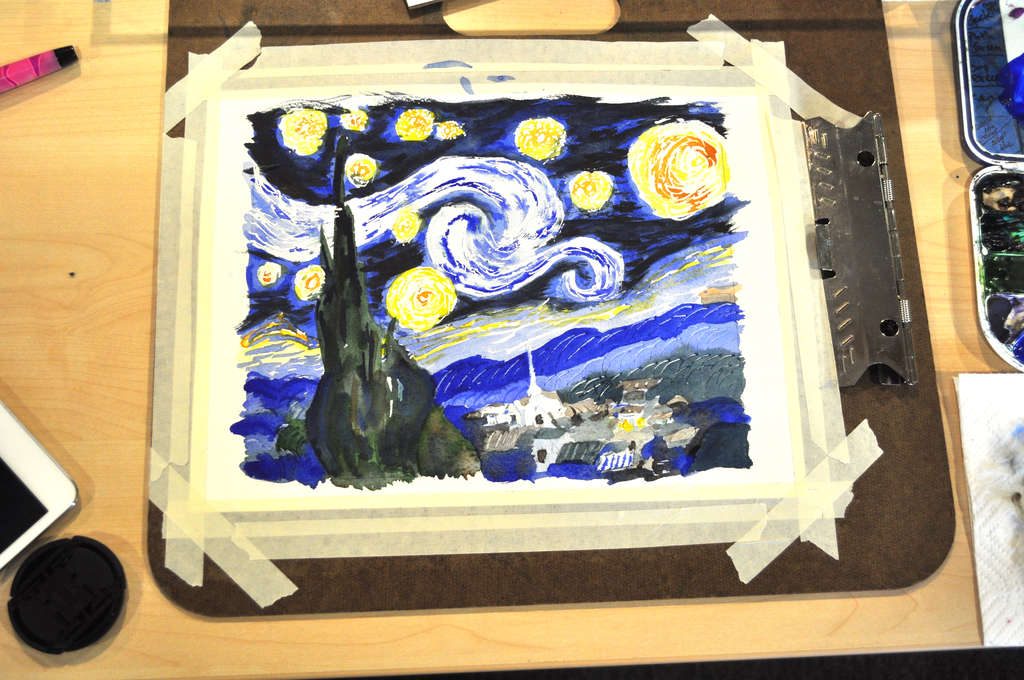 I've finished off the painting of the ground and village here, and removed the masking fluid.
Inked outlines of the village buildings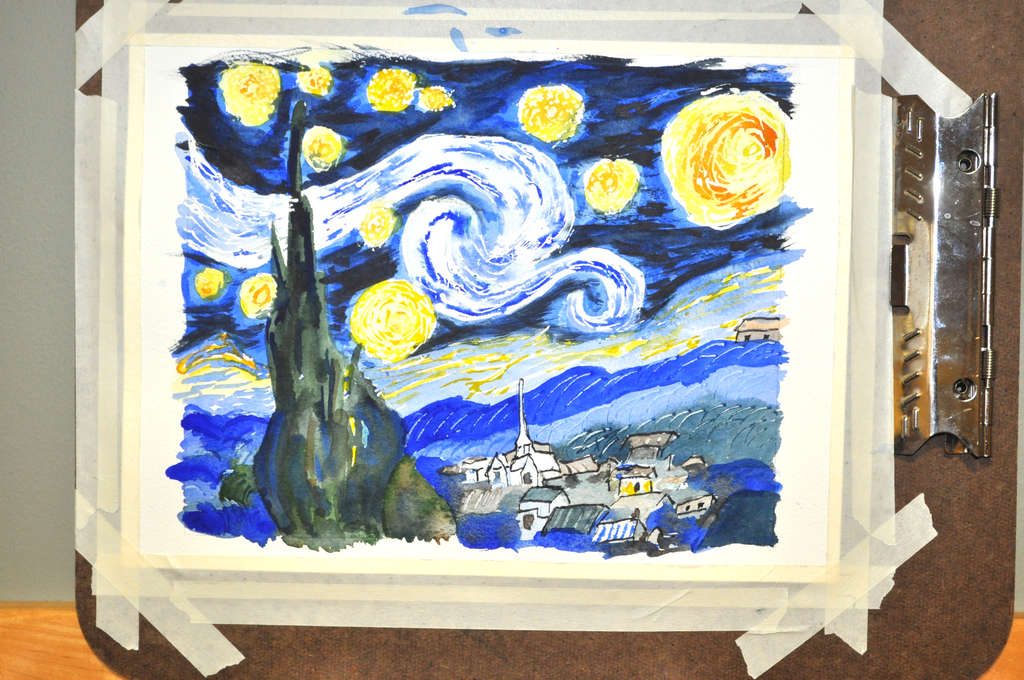 Using a fountain pen with a 1.1mm stub nib, I inked in some outlines and details for the village. I had noticed Vincent had some hard dark outlines on his village buildings, and I think it gave it a nice feel.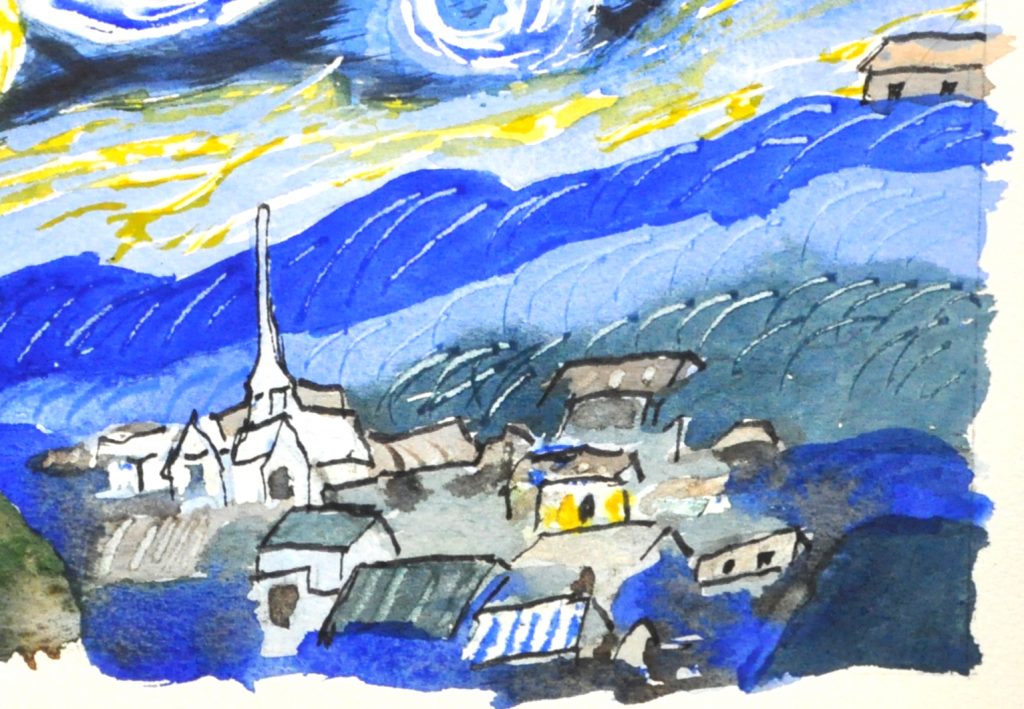 Final in class for critique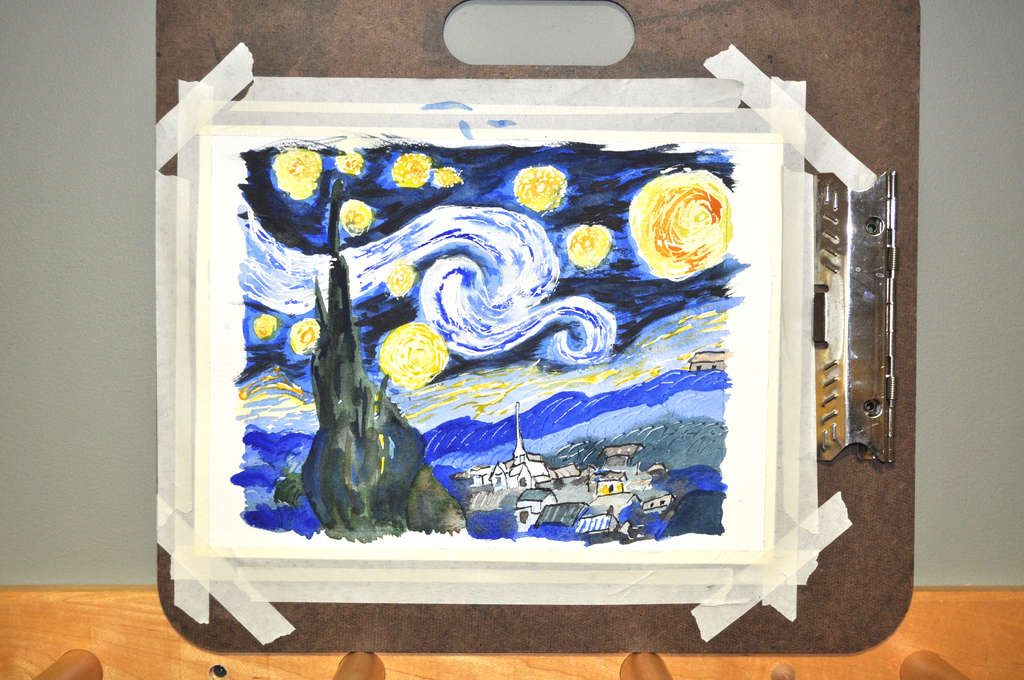 This is the final as I presented for the class critique. I called this "done" and I'm quite happy.
At home, copy stand reproduction
Unweighted, with just the mat covering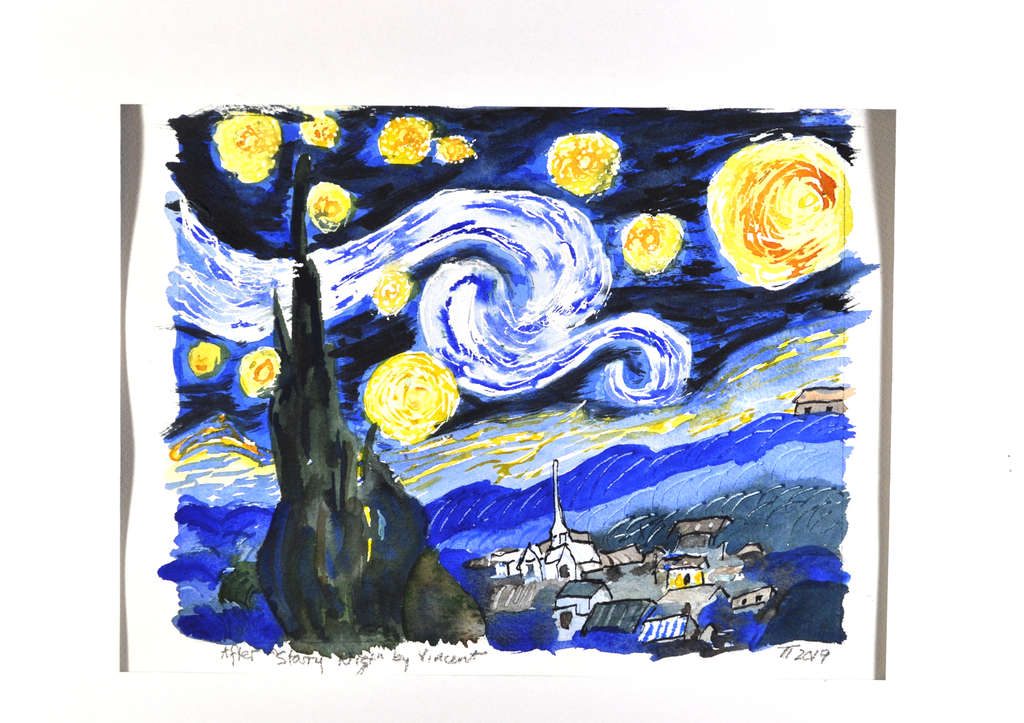 Weighted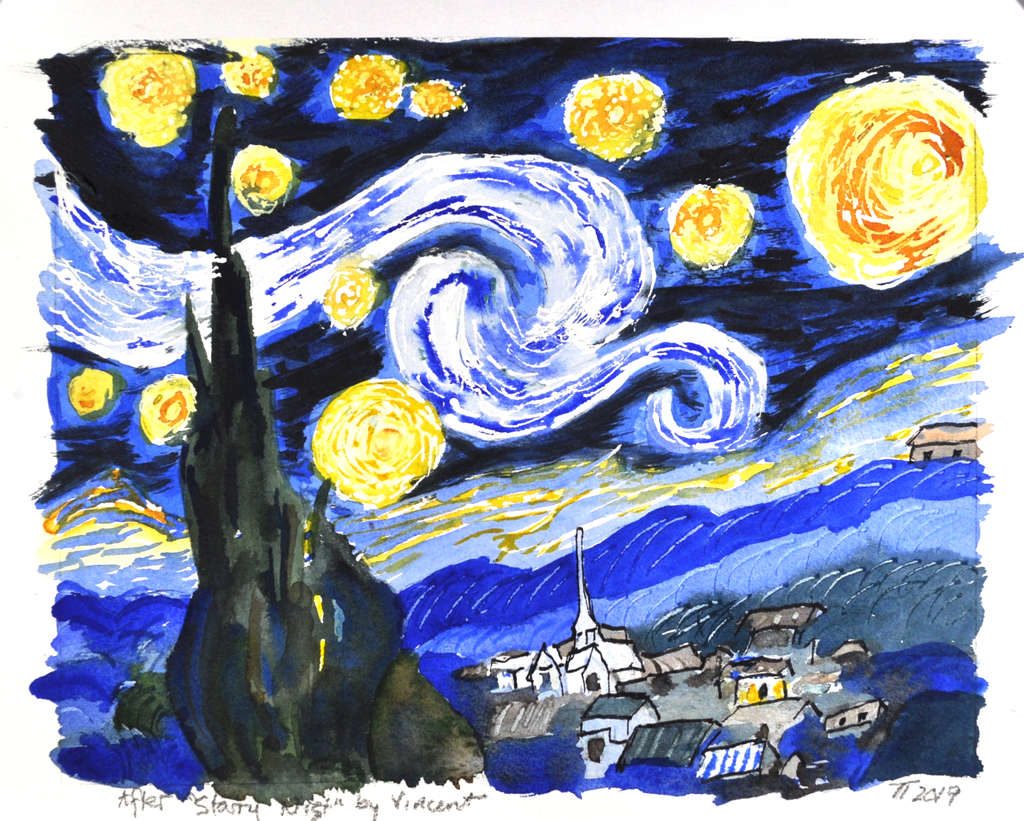 Weighted, closer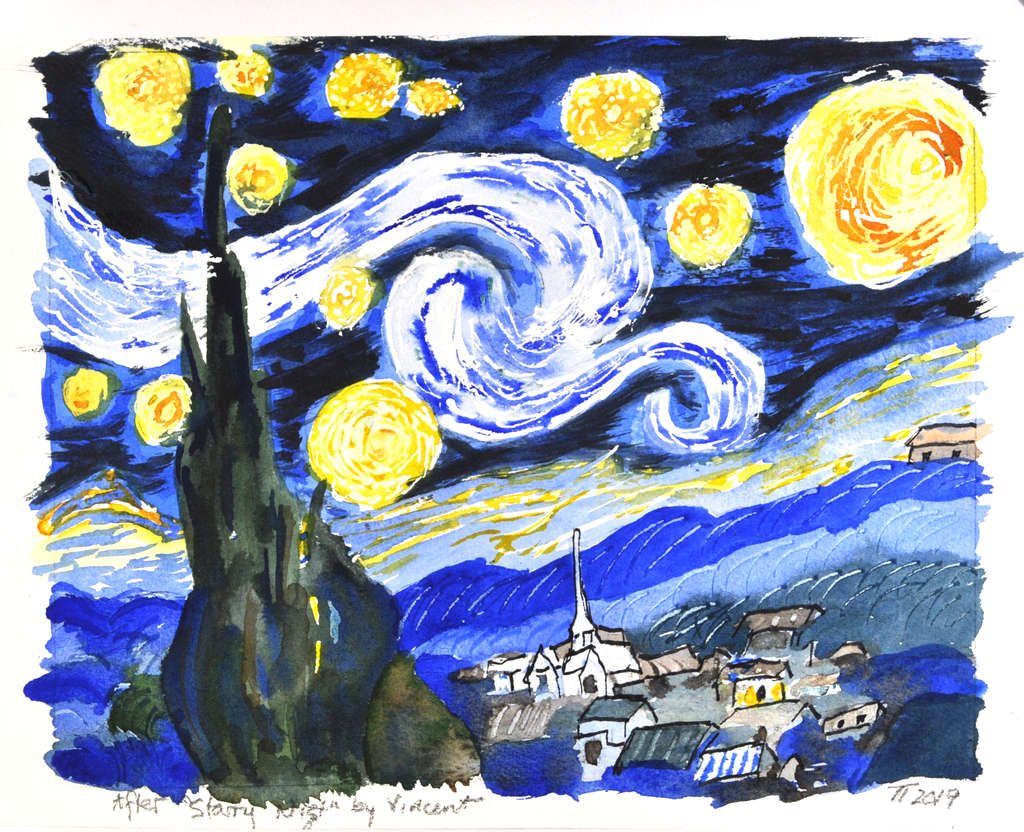 All in all this was a super fun project to work on, and turned out much better than I thought it would. Making a watercolour of a very famous and beloved oil painting by a very famous and beloved artist was certainly a bit of hubris, but it was the whole class so I don't feel so alone. I'm happy it turned out as well as it did, even if no one would ever mistake it for the real thing, it's just recognizable. I hope my homage is acceptable.
Materials
Paper
Arches 140 pound cold press 9×12, loose
Paint
Daniel Smith Cobalt Blue
Winsor & Newton French Ultramarine
Winsor & Newton Payne's Grey
Winsor & Newton Aureolin (Cobalt Yellow)
Winsor & Newton Sap Green
Daniel Smith Quinacradone Burnt Orange
Chromatic Black mixture of WN French Ultramarine and DS Quin Burnt Orange
Ink
Monteverde Midnight Black ITF formula
Brushes and Pen
Dreamcatcher #10 round
Dreamcatcher #6 round
Kolinsky Rigger #6
Conklin Classic, with 1.1 mm #6 Goulet nib