In my email the other day, GouletPens shoved a picture of yet another purple pen in front of me, the Diplomat Magnum Prismatic Purple and so I just had to go and buy one. No, really.
It arrived today, and it was an interesting unboxing experience.
The Box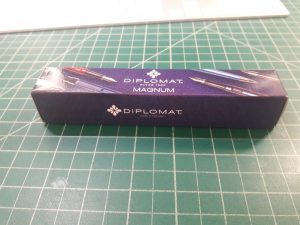 The box the priz prpl comes in is small, especially compared to other pens of the same class from Pilot or Lamy. It's quite serviceable, and since it's destined to get tossed, doesn't have a lot of material to dispose of. I approve.
Out of Box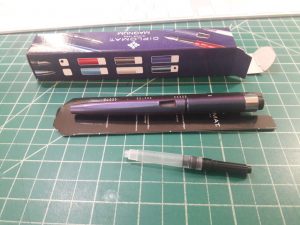 Taking the contents out of the box, the pen is clipped on a piece of tag board that keeps it secure in the box, but the converter is left loose to rattle about.
Pen dismantled and converter attached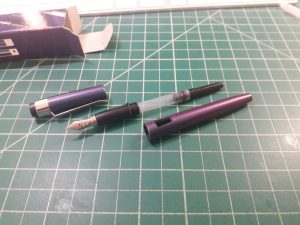 The pen comes apart easily, the cap clicks on and off quite satisfyingly, and the barrel unscrews from the section. Attaching the converter turned out to be harder than I thought; problem coming up.
Woops! The Section Cam Off!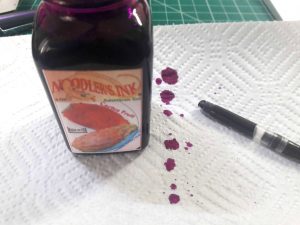 Oh, woe, oh, ruin! I had not made the attachment of the converter onto the section secure enough. I thought it had gone on, but it took more force than I thought it would. While trying to fill it from the bottle, the section popped off the converter and dropped into the bottle.
Rescued!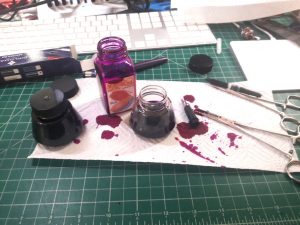 Luckily, I have quite a number of empty spare speedball ink bottles. (I had aquired a bunch of these figuring they would be much better traveling companions than their glass equivalents.) Carefull pouring out the ink into a couple of the speedball bottles gave me enough ability to see the section, which I retrieved with a pair of forceps.
Carry on… but now a new problem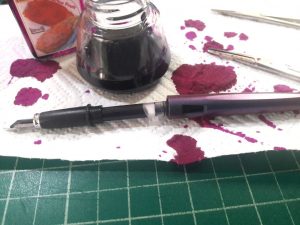 With the section and converter now firmly connected, I filled the converter with Noodler's Cactus Fruit Eel ink. Making ready to attach the barrel, I found I couldn't.
Wat?!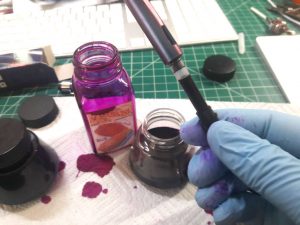 The barrel just will not fit? How can this be? I was all set to put everything away and write a very nice letter to GP explaining my dilemna, when…
Oh, It's a cartridge!
I had found an empty cartridge earlier in the packaging, but I had not though to check for a filled cartridge, which, sure enough, was tucked safely up inside the barrel. It worked it's way loose as I was setting things out to put them away and suddenly "PLOUGH" there is was!
Now it fits, everything is normal, again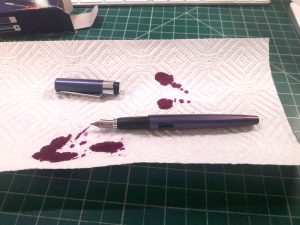 Now it all fits, and the pen went back together quite nicely.
Writing test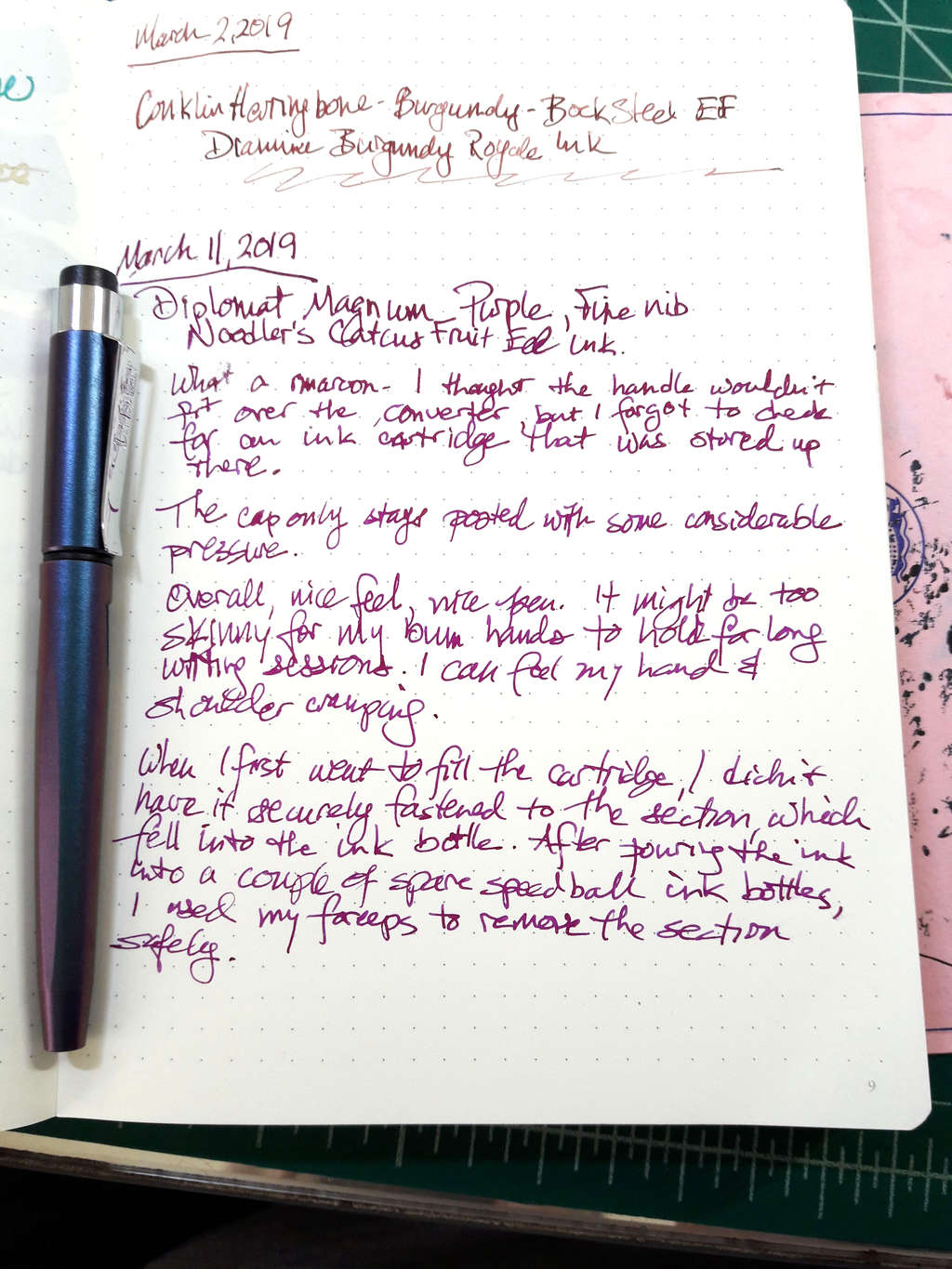 The Diplomat Magnum is really quite clearly a beginner pen, and for that, it is really well suited. Since the converter is already part of the price, it's quite comparable to the two others most often touted in this niche: the Pilot Metropolitan and the Lamy Safari. In Brian Goulet's video, the comparison is pretty well laid out.
The most striking thing about this pen is it's weight – it is extremely light, and that definitely affects how it writes. I have the Fine point nib, which is still a little thicker than the Pilot Metro Fine nibs. The Pilot is about twice as heavy, and is a little easier for me to hold because of that weight. I kept feeling I was about to drop the Diplomat so I felt myself gripping harder and harder, tensing my hand and my shoulder.
Another complaint is that the cap takes a lot more force to post and stay on the barrel while writing than I initially thought it should, so it fell off a few times while I was writing. After pushing quite a bit, I did get it to stay on.
The pen is narrower than I think I need these days for comfortable writing, but that's due to both a lot of neuropathy and some arthritis. I'm turning more and more to my TWSBI 580s and other "fatter" sectioned pens for my every day carry (EDC)
Conclusions
All in all, I'm quite satisfied with the Diplomat, the Prismatic Purple is a dandy colour and finish, and I think many folks would quite enjoy this pen. I'll probably gift it on to someone else, as I don't feel it would be comfortable enough for me to use regularly. The price is really right for this pen, a great beginner pen.
Thanks
Thanks and shout-outs to Brandon and Jeremy for packing and invoicing – you are all the best over there @GouletPens!